This is an archived article and the information in the article may be outdated. Please look at the time stamp on the story to see when it was last updated.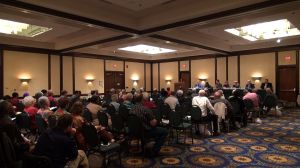 MADISON COUNTY, Ala. (WHNT) – The Better Business Bureau serving North Alabama teamed up with TARCOG (Top of Alabama Regional Council of Governments), SALT (Seniors & Law Enforcement Together) and PEACE (Prevention of Elder Abuse and Criminal Exploitation) to bring a "Scam Jam" Fraud Summit to Madison County Wednesday.
The Summit held at the Huntsville Marriott included a panel format with guest speakers from the Alabama Securities Commission, Alabama Attorney General's Office, Better Business Bureau, TARCOG's SHIP Program and Senior Medicare Patrol programs, as well as representatives from Huntsville Police Department, Madison Police Department and the Madison County Sherriff's Department.
"Fraud seems to be growing at a tremendous rate, especially as new technologies develop each day, so the best defense is staying aware of the latest schemes," said Michele Mason, president of BBB serving North Alabama.
"This event is designed to provide individuals with the tools they need to identify current types of fraud and the best ways to protect themselves from falling victim," added Mason.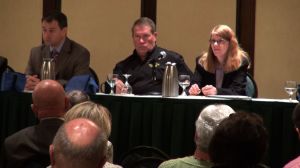 Topics included investment fraud, Medicare fraud, top scams of the year, home improvement schemes, sweepstakes offers and more. Attendees also had the opportunity to ask their own questions of the experts.
"I'm seventy-seven years old and I never knew some of this stuff," said one attendee.
Lead Medicare Coordinator for TARCOG, Debi Trumbull says many seniors have questions on what Medicare can offer them and how the system even works.
"All the sudden when we turn 50 we are bombarded with information about healthcare and about senior citizen issues."
She says some seniors can be overwhelmed by 15 to 20 healthcare solicitations by phone daily. Trumbull says TARCOG and the State Health Insurance Assistance Program (SHIP) offer a myriad of resources for seniors, including helping them avoid becoming victims of fraud.
"We will help you to understand what your Medicare benefits are, what is reputable, what is allowed within our communities and to help you to decide on the plan that will best fit your needs."
And she says will not just be left to their own devices after the initial consultation.
"Every year we will review your plan because every year companies change their policies, they change their premiums, they change their co-pays."
Of course, Trumbull says, taking advantage of the resources available is the first proactive step for seniors.
"If they've received their 'Medicare and You' book, if they've received information from their insurance company and they haven't read it then they can't claim ignorance on this, you have to be your own best advocate."
The BBB of North Alabama plans to conduct another fraud summit next year to include locations in the Decatur/Limestone County area, the Shoals, and on Sand Mountain.