This is an archived article and the information in the article may be outdated. Please look at the time stamp on the story to see when it was last updated.
HUNTSVILLE, Ala. – One local representative of a national scholarship program that inspires high school girls to develop their full, individual potential has been decided. This year the Madison County's Distinguished Young Women program announced Lauren Scott as the representative for 2019.
Several excited participants put on a last dab of lipstick, reviewed their last routine, and took one more breath before stepping on the Von Braun Playhouse stage on Saturday, June 30. During the weeks leading up to the competition, participants rehearsed routines, practiced interviews, and gained friendship with several new faces from across Madison County.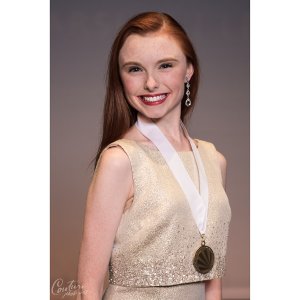 Lauren Scott is a rising senior at Huntsville High School and says that words can't begin to describe how she feels.
"I will never forget the week I spent laughing, learning, and growing alongside so many wonderful women. Congratulations to not only the award winners, but to all of the participants for your outstanding performances; you are some of the most amazing young women I have ever has the good fortune of knowing. You have all taught me so much, and I will cherish our friendships for a lifetime."
Distinguished Young Women, formerly America's Junior Miss, is a national scholarship program that works to inspire high school senior girls to develop their potential through a fun, transformative experience that culminates in a celebratory showcase of their accomplishments. Distinguished Young Women strives to give every young woman the opportunity to further her education and prepare for a successful future.
Each year, rising high school seniors from the area join to compete in scholastics (25%), interview (25%), talent (20%), physical fitness (15%), and self-expression (15%). With several categories, multiple participants are eligible to win scholarship money for the college of their choice. This year, the program was able to give away almost $5,000. The winners of Madison County's program were as follows:
Spirit ($200) – Hope Keys, Sparkman High School
"Be Your Best Self" Essay ($200) – Charis Harrison, Grissom High School
Fitness ($200) – Nolen Gunner, Bob Jones High School
Self Expression ($200) – Lauren Scott, Huntsville High School
Talent ($300) – Lauren Scott
Interview ($300) – Lauren Scott
Scholastics ($300) – Lauren Scott
2nd Alternate ($500) – Kaylee Kendrick, Bob Jones High School
1st Alternate ($900) – Hope Keys
DYW of Madison County 2019 ($1,900) – Lauren Scott
Lauren will compete in the Distinguished Young Women of Alabama competition January 18-19, 2019 in Montgomery, Alabama.
The Madison County program is now accepting participants for the high school senior class of 2020, and you can apply now!
For more information on the DYW program, you can visit the national website or the local Madison County website.