This is an archived article and the information in the article may be outdated. Please look at the time stamp on the story to see when it was last updated.
HUNTSVILLE, Ala. (WHNT) - The Madison County Commission's first Director of Information and Community Relations, Missy Ming Smith, has announced that she will retire on Feb. 1.
Before Missy worked for the county, she was a news anchor and reporter right here at WHNT News 19.  In 1976, she became the first woman in Alabama to anchor a weeknight newscast.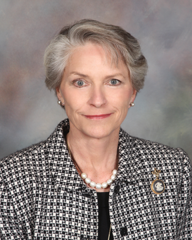 Missy spent 17 years in television news, five of them here at WHNT.
In order to acknowledge the tremendous team efforts over the years, Ming Smith said that her family has endowed a "Madison County Public Servant Scholarship" at Athens State University.
Ming Smith said this scholarship is designated for full-time working Madison County public employees and also employees of the City of Huntsville and Madison City who want to further their education by enrolling part-time, or for the children of these three public employee entities.
Athens State University Foundation will administer and award the scholarship that will be awarded at least annually for years to come. An applicant only need be a part-time student (take two courses per semester) because he or she works full-time. Academics need only be in good standing.
Applicant can apply on-line at https://stars.athens.edu/stars/.
"Respect of all citizens and education has provided our family a wonderful life. We wish to assist in offering that to co-workers and their families. My dear Mother always told me, 'Prayers must have feet!' This scholarship is my feet. Our prayer is for all of you, this community, and our wonderful Madison County," said Ming Smith.
"I must thank Huntsville-Madison County Leadership who years later reminded me — footprints must be made for others to follow, that we lead by example. Leadership teaches, 'If your vision is for one year, plant wheat. If your vision is for ten years, plant trees. If your vision is for a lifetime, educate people,'" said Ming Smith.
If you would like to contribute to the "Madison County Public Servant Endowed Scholarship", you may do so on-line at http://www.athens.edu/advancement/donate.php , or mail your contribution to:
Athens State University Foundation
P. O. Box 70
Athens AL 35612
More information about the Athens State Foundation can be found at http://www.athens.edu/foundation/.
Athens State University is a two-year institution of higher education (Jr. and Sr. years), and accepts community college (Calhoun) and technical community college (Drake) credit hours. Athens has also partnered with the University of North Alabama to offer several master programs.