This is an archived article and the information in the article may be outdated. Please look at the time stamp on the story to see when it was last updated.
HUNTSVILLE, Ala. - If you live in North Alabama, chances are, you live in the Red Zone, and it could impact your health.  "It's the second leading cause of lung cancer," says Walter Harris, the Madison County Extension Coordinator.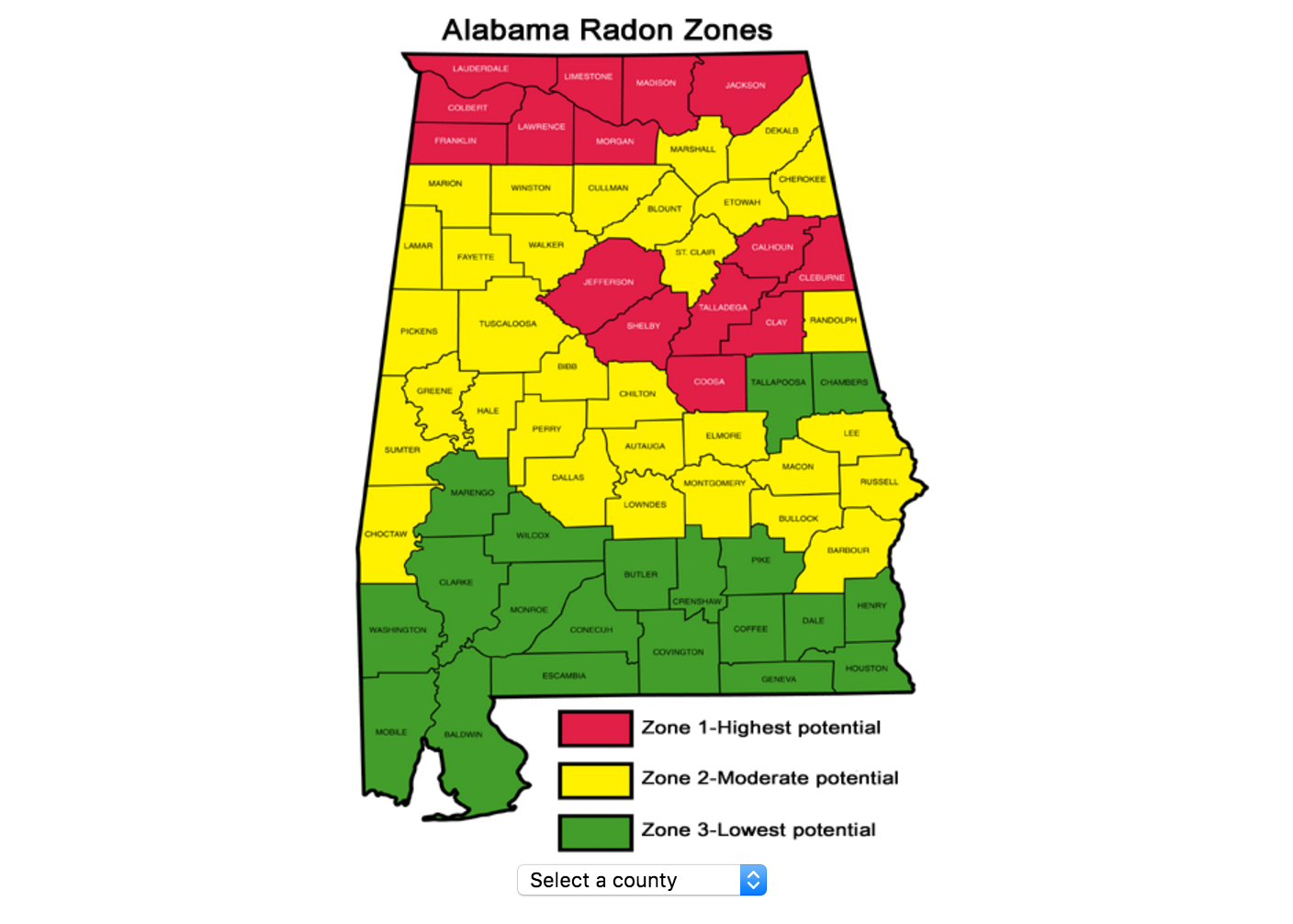 The map shows that most of the Tennessee Valley falls into Zone 1 for levels of radon. That means counties highlighted in red have the highest potential for the odorless, tasteless, and cancer causing carcinogen.
"Over the years, tracking it, the dark areas are the high levels of radon in the zip codes," says Harris.
In Madison County, areas like Downtown Huntsville, Gurley, and Moores Mill have 30% or more homes detected with dangerous levels of radon.
Even the lighter shaded areas, like New Market, have 20% of homes with dangerous levels.
The Madison County Extension Coordinator says that has to do with the limestone rock found below our feet, and our current drought and cooler temperatures aren't helping.
"The drier the ground, the easier for the gas to move through the soil and up through your foundation. With the cold weather, the houses are usually closed, there's no aeration so the radon gas is trapped inside," says Harris.
The EPA defines dangerous levels of radon at 4 pCi/L.
"Not to scare anyone, but we've had readings as high as 45, so and the house next door may have a low reading so it just depends on whether the gas is coming up through the soil," says Harris.
The Madison County Ag Extension Office offers a 74 hour take-home test kit, for just $10.
"You take the top off, consider putting it in a room where you spend a lot of time for 72 hours, we recommend starting on a Friday, putting a cap back on, and putting it in the mail Monday morning," he says.
The test will be sent to a lab for testing, and you'll get the results mailed back in about 2 weeks.
Whether you live in the red zone or not, the EPA recommends all houses be tested for radon, and with only $10 tests available at the Madison County Ag Extension Office, it's just a small price to pay to make sure your family is safe.  
The Ag Extension Office says in the last few weeks, they've actually sold out of test kits, so they've had to place an additional order just to keep up with demand.
Find contact information for each county office of the Alabama Cooperative Extension System.
Here's more information on the effects of radon in your home.