This is an archived article and the information in the article may be outdated. Please look at the time stamp on the story to see when it was last updated.
NEW YORK, NY (WHNT) – Three Huntsvillians and a Florence-born, current Huntsville resident have advanced to the semi-finals of a New York theater festival.
'Woosical, Jr. The Story of Rue' is taking the New York New Works Theater Festival by storm. The family musical has gone up against some very talented writers and performers in the big apple so far.
 "It's the first time to have an audience, it's the first time to know what's going on, you know, how they're going to react," explains producer Kristen Tumminello of the quick turn-around performances.
"Just being around the energy of New York has been infectious and exhilarating, really," says Woosical co-writer Kelley Birney.
So it's a rehearsal Tuesday night, then back on the big stage Wednesday for the semi-finals. The appeal of the message is universal: love yourself and be true to who you are. Producers say their success speaks volumes about what someone — even from good 'ole Huntsville, Al. —  can achieve.
 "Don't give up on your dreams and don't block out the possibilities of things that you don't even know might happen," says Tumminello.
Click here
to learn how to donate toward set pieces, costumes and actor stipends.
More about Woosical, Jr.
Locals have the opportunity of a lifetime as their production, Woosical Jr., The Story of Rue, will be featured at the New York New Works Theatre Festival in Times Square on August 27.
Co-writers Kristen Tumminello and Kelley Birney collaborated with composer Jay Tumminello and actor Joshua Dixon to tell the story of Rue, The Monster of Insecurity, as he tries to hide what he thinks is his ginormous nose. Ultimately, Rue comes to terms with who he is, what he has, and what he has to offer to the world.
If Rue sounds familiar, you may know him as a member of the WorryWoos — an award-winning series of books and plush dolls based on lovable, quirky characters on journeys of self-awareness written and illustrated by Andi Green.
Lee High School magnet theater students put on Woosical The Musical last Septmeber at the school's black box theater.
Woosical, Jr. is a 25 minute abridged version of the longer musical script. The New York New Works Theater Festival submission deadline was July 6. In less than a week the cast of 3 will perform in New York.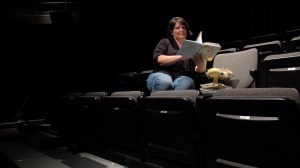 "We have gone from, 'okay, we're submitting a show,' to 'okay, we're putting on a show and by the way — it's in New York'," explains producer, costume designer, marketer, scenic artist Kristen Tumminello who wrote lyrics in partnership with Kelley Birney.
Woosical, Jr. focuses on one of 5 main characters, Rue.
"We felt like Rue, because of his insecurities about his looks, connects with everyone," says Tumminello.
It's a very difficult time in the lives of children. In a time when we are bombarded with magazine covers and social media posts that tell us we're not tall or thin or rich enough — Tumminello says this piece speaks to that.
"This is definitely a family musical. This sis not just for children but for everyone; we all want to raise our children to be self-aware and confident."
The musical will be judged in New York by a panel of Emmy-nominated and Tony Award winning writers. The judging will determine if the musical will advance on to the new works semi-finals.
"I don't doubt that this is going to move and go somewhere," says Tuminello. "But even of it didn't this is a dream come true. We have a show going to New York — enough said," she smiles.
Tumminello says someone in Birmingham has already expressed interest in licensing the musical for local production in the spring, so details about how to catch the musical locally will be forthcoming.