This is an archived article and the information in the article may be outdated. Please look at the time stamp on the story to see when it was last updated.
All photos courtesy: Jamie Clauss/Count It Joy Photography
HUNTSVILLE, Ala. (WHNT) – Snuggles was bound to be a star.
Never heard of her? You will after this – her 'newborn' pictures are quite the hit.
But we're not talking about a bouncing, cherubim baby girl — try camera savvy canine.
It's the face only a mother — and millions of internet surfers — could love.
Snuggles is a rescue dog owned by Jan and Chase Renagar, professional wedding and portrait photographers with Green Tree Photography in Huntsville, AL.
Their friend, Jamie Clauss, is also a photographer who specializes in newborn and family portraits with Count It Joy Photography. Jan was admiring a photo shoot Jamie had recently done, and said she'd like to have some family pictures taken one day, but she and her husband don't have kids yet.
"She jokingly said, 'we should just use Snuggles' and then we just laughed about it for a while and then she's like 'no, we really should' and I'm like 'okay let's do it!'"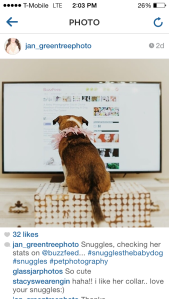 Then a light bulb went off — they could cuddle up with Snuggles instead. They did it in a tongue-and-cheek way, deciding to have a little fun at the expense of kitschy baby poses.
"They're overdone and sometimes that's okay," admits Clauss, "because people see them and then they want them, and that's okay. They want their baby to be in it."
But this time, Snuggles was in it, and Clauss ran the gamut – from the classic 'bundle of joy' to the much-loved 'foot pose' to the 'Lion King lift' to 'the sleeping baby' to 'baby in a basket' to an obligatory black and white for added drama.
Snuggles hit her mark — every single time.
"It just kept getting more and more ridiculous as she got sleepier and more compliant," Clauss laughs.
Clauss says the strangest thing after Internet fame has been the range of reactions to the papoosed pooch.

"Everything from, 'yes, you're right, dogs are better than babies,' to 'this is terrible — you should never do this to your dog.'"
But Snuggles is lapping up the limelight, nevertheless. Will we see a Snuggles reality show pilot in the future? Only time will tell.
"I never thought it would become this — worldwide phenomenon," Clauss scoffs. "I'm just kinda riding this wave right now."
Renegar often posts photos and videos of Snuggles to her Instagram account @jan_greentreephoto with the hashtag #snugglesthebabydog.
For the record, Jamie Clauss says she certainly wouldn't turn down any 'baby-dog' photo shoot requests.