This is an archived article and the information in the article may be outdated. Please look at the time stamp on the story to see when it was last updated.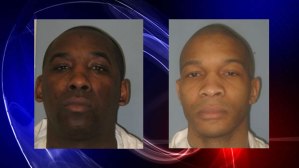 FAYETTEVILLE, Tenn. (WHNT) - Since late October, people in southern Lincoln County have been waiting for answers about who murdered three women, a toddler and another man.  Thursday, they finally got some answers.
The Lincoln County Sheriff's Office announced two arrests at a news conference Thursday afternoon.
Henry Lee Burrell, 36, of Fayetteville, Tenn. and Zakkawanda Zawumba Moss, 35, of New Market, Ala. have each been indicted on six counts of first-degree murder.
"This has been a seven-month in-depth and aggressive investigation," Lincoln County Sheriff Murray Blackwelder said on Thursday.  "It's been a long seven months, but all of the families have been kept up to date on what's going on.  They have been patient and worked with us well, and we've all attempted to bring this to a resolve."
On October 22, 2012, investigators were called to 3264 Huntsville Highway, just over the Alabama line in Park City, Tenn.  There, they found 23-year-old Chabreya Campbell, 16-month-old Rashad Ragland and 21-year-old Amber McCaulley of Huntsville dead.
Campbell's 3-year-old son, Vincent Crutcher, had called a relative from his mother's cell phone to say his mother and baby brother would not wake up.  Campbell was also pregnant at the time of her death.  Family members rushed to the home, got inside and called 911.
That same evening, the Lincoln County Sheriff's Office responded to 4 Fox Wood Drive in Fayetteville and found the body of Jessica Leigh Brown, 22.  Her 2-month-old baby was not harmed.
Warren Vincent Crutcher, 24, was found dead the next day in Hazel Green.  He lived at both Fayetteville homes where the Tennessee victims were because he had children with Campbell and Brown.
Through the investigation, detectives learned one of the suspects, Henry Burrell, had started to assist Warren Crutcher in his drug dealing business after the two men met while in prison.  Zakkawanda Moss, who also goes by "Face" was a friend of Burrell's and also  began dealing drugs with Crutcher and Burrell, investigators said.
Authorities said Burrell and Moss decided Crutcher was not sharing enough of the business proceeds and decided to rob him.  The murders occurred while they were searching the two homes for drugs and money.  Investigators are not releasing the victims' causes of death yet.
"I especially want to thank the families of the victims for their patience and understanding during these trying times," said Sheriff Blackwelder. "I appreciate them putting their faith in us to take care of this."
Authorities have served Burrell and Moss with the murder charges.  Burrell is currently in the Ventress Correctional Facility in Clayton, Alabama for a sentence of assault and violation of parole.  Moss is in the Kilby Correctional Facility serving a 20-year sentence for robbery and violation of parole.
The Lincoln County Sheriff's Office has a hold on the two men for the murder charges.
Several agencies participated in the extensive investigation, including the Lincoln County Sheriff's Office, the Madison County Sheriff's Office in Alabama, the Tennessee Bureau of Investigation, Fayetteville Police Department and U.S. Marshals.
Read more background on WHNT.com.