This is an archived article and the information in the article may be outdated. Please look at the time stamp on the story to see when it was last updated.
HUNTSVILLE, Ala. (WHNT) - The lawyer for a Huntsville police officer facing federal charges of excessive use of force says Brett Russell is a different man than what has been portrayed so far, and asks the public to let the story unfold in court.
Russell sat next to his attorney, Joe Lampley, as Lampley made a statement on Friday.  Russell's family also stood behind him.
"When you lay down at night, you want officers like Brett Russell to protect you.  We want an Officer Russell to protect us, and I believe the citizens of north Alabama, when the case is tried, will see it like I see it, that officers like Brett Russell are there to protect them," said Lampley.
"He's an exemplary officer.  When he's given the opportunity to present his case, we'll have other witnesses come forward to talk about what an exemplary officer he is," added Lampley.
Russell was indicted Thursday on federal charges of excessive use of force.  Lampley said the man who "created the situation" is Gary Hopkins.
December 23, 2011
Hopkins was arrested the night of December 23, 2011.  Huntsville officer Amanda Carmean responded to a domestic violence call.
"The ultimate conclusion was that Gary Hopkins was drunk, had punched his wife in the face and she bore evidence of the attack he had perpetrated on her," said Lampley.
Hopkins' wife was also drunk and police had to call DHR to take the children, two days before Christmas.
Hopkins was handcuffed and put in the back of Carmean's patrol car.  Lampley said as the officer was driving, Hopkins spit at her, called her a "b--ch and a whore several times" and kicked out the back passenger window of the patrol car.  Other officers arrived on the scene to put Hopkins in another car.
Dashcam video shows Russell punching Hopkins. Lampley said these motions were controlled and meant to subdue the suspect.
"Officer Carmean testified that Officer Russell used non-deadly controlled body strikes on Mr. Hopkins," Lampley said.  "She believed he did it because Hopkins was trying to position his head to spit on officers.  Russell was using techniques he learned in training to control Hopkins, and this is what was concluded at the hearing in April of 2012."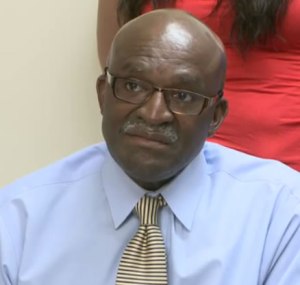 "You can transfer [many diseases] through saliva," added Lampley.  "Russell should be applauded as a hero.  He helped other officers Hopkins was committing a crime against.  We believe when all the evidence comes out in the trial, that the jury will conclude Russell acted within the guidelines in the concept of split-second decisions. Officers must make split-second decisions using the training they have received.  They must act then and there, and must act decisively."
The indictment
According to the federal indictment, Officer Russell falsely stated in his incident report that Hopkins kicked at officers, attempted to head-butt them while they transported him to Russell's vehicle, that he was told to stop resisting several times but would not comply, and that he was transported to the Huntsville metro jail "without incident." Russell omitted from his report that he "had struck G.H. with his fist and kneed G.H. in the body," the indictment says.
Attorney Lampley said Russell will be in court to face the charges.
"Officer Russell is not going to run and hide from this community he lives in.  Here he is with his family.  When and where we have to show up and court and tell our side, we will do that," Lampley said.
If Russell is convicted, the maximum penalty is 10 years in prison and a $250,000 fine. The obstruction of justice count carries a maximum penalty of 20 years in prison and a $250,000 fine.
Comparison to the national scene
Lampley also commented about numerous incidents of police brutality across the nation.
"There's no one in this viewing audience who is not knowledgable of all the events taking place across this country," said Lampley.  "When you look at the conduct of Mr. Russell, and the application of non-deadly force , that is so different from what we see from officers across the nation."
Lampley said Russell could have used his gun, club or taser, but didn't.
"He did none of those things.  He used only the amount of force that was needed to control the situation.  We believe Russell will be vindicated of these charges just as he was vindicated by the Huntsville City Council.  They drew the same conclusions as what we've stated here today."