This is an archived article and the information in the article may be outdated. Please look at the time stamp on the story to see when it was last updated.
MERIDIANVILLE, Ala. - Yes, you read that headline correctly.  An eagle-eyed viewer questioned her sanity after spotting a wallaby bouncing around Wes Ashley Drive in Meridianville Tuesday afternoon.
Arynn Troupe was quick enough to snag a video of the wallaby, though.  She contacted WHNT News 19 to tell us about it.
"I knew no one would ever believe me so I grabbed my phone and started shooting," Troupe says.
Madison County Animal Control were made aware of the rogue animal and responded with a crew of three officers.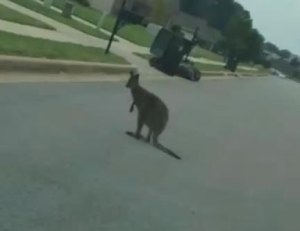 "It's likely an imported exotic pet. Some jurisdictions outlaw exotic pets, but as far as I know, it would be legal to own one," Madison County Animal Control Director Mike Fritz said.
The owner of the animal says "Langley" got out of a gate at his home. On a Facebook post Tuesday evening the owner  said the incident was an "unfortunate accident."  The owner indicated the animal was located and they said they hope the incident never happens again.
Alabama exotic animal laws do not forbid the ownership of wallabies.
Wallabies are like kangaroos, only smaller.
If you see news happening, let us know! Call (256) 533-1919 or email a tip to news@whnt.com.  Arynn, we appreciate the tip about this story!
MISSING: pet wallaby escapes backyard enclosure near Madison County Executive Airport. (No joke) http://t.co/bE89YnHrff

— Matt Kroschel (@Matt_Kroschel) July 8, 2014