This is an archived article and the information in the article may be outdated. Please look at the time stamp on the story to see when it was last updated.
HUNTSVILLE, Ala. (WHNT) - ARTBenches are up and around in Downtown Huntsville, so keep an eye out near the main square. The project was sponsored by Downtown Huntsville, Inc. and the Alabama Society of Landscape Architects and showcases unique benches throughout the summer.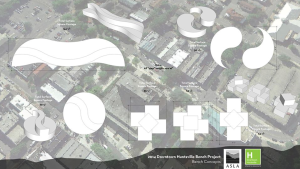 In addition, there are a number of big events coming to Huntsville during the summer months. Here's a list:
July & August Events
July 12th - Grotto Lights Concert
July 18th - Beach Street Food Gathering
July 25th - Universty of Alabama Alumni Association Tailgating Event
August 9th - Grotto Lights Concert
August 15th-16th - Hottest Weekend of the Year (Street Food Gathering on the 15 and Paint Hill Haints Concert on the 16)
August 28th-31st - Downtown Tailgate Games
You can check out Downtown Huntsville Inc.'s Facebook page to find more details on all these events.