This is an archived article and the information in the article may be outdated. Please look at the time stamp on the story to see when it was last updated.
HUNTSVILLE, Ala. - A former Madison County Sheriff's deputy charged earlier this week in a federal case has been granted bond.  However, as of Friday afternoon, Justin Watson's family was still working to pay the $25,000 and secure his release.
The bond must be paid in cashier's check or property.  The judge ordered GPS monitoring for Watson, and said Watson can't leave his home except for work, meetings with his lawyer and other pre-approved activities.  He also most stay in north Alabama.  The judge ordered further searches of the defendant's home and vehicles to make sure he has no weapons.  Watson also cannot go within 2,000 feet of any potential witnesses, or Billy's Bar, where he says he was sucker punched.
In court, Watson's lawyer called several witnesses to testify, including Watson's wife, adoptive father, and other deputies who worked with him.  Co-workers said he was "nice."
Prosecutors called one witness, FBI Agent Susan Shimpeno who has been investigating the case.  She discussed what another deputy told her in sworn testimony about the revenge beatdown on Robert Bryant.
Watson's wife was very emotional after learning her husband was granted bond.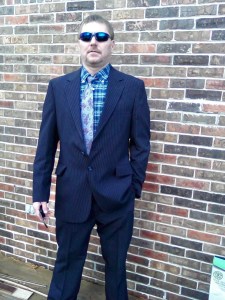 The indictment accuses Watson of stopping Robert Bryant without probable cause and without reasonable suspicion, then using a deadly weapon to assault him in August 2012.
Watson, 30, is charged with two counts of deprivation of rights under color of law, one count of corrupt persuasion of a witness, one count of obstruction of justice – witness intimidation, and one count of obstruction of justice – misleading conduct.
Family of Robert Bryant took to the streets in matching shirts and signs in opposition of the judge's decision.
"If you look a the pictures of my cousin, you'll see [Watson] ain't that sweet, he ain't that nice," said Danny Mearse, Bryant's cousin.
"If it was one of us accused of beating a cop or something like that we'd still be sitting up there," said family friend Angela McSwain. "I thought they were going to keep him, the evidence that was presented, he should still be sitting there."
"No telling how many other people he's hurt," said Mearse. "The judge is going to turn him out to let him run around, he's going to be able to get away with a few things"