This is an archived article and the information in the article may be outdated. Please look at the time stamp on the story to see when it was last updated.
HUNTSVILLE, Ala. (WHNT)-- A mid-air collision between a small airplane and a military helicopter left dozens of people wounded, sparked a large brush fire at the Aviation Challenge Friday evening.
It was part of the Be Ready Camp. Throughout the week, they learned about first aid, search and rescue, how to help victims and identify injuries. Friday night, they put what they learned to the test.
The scenario was only a drill but it appeared real life complete with volunteer actors in full makeup, real fires and emergency response crews responding with lights and sirens.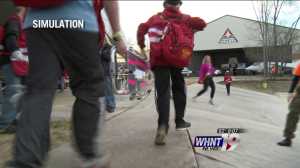 More than 100 6th graders from across the state spent the last week learning about emergency management and first response and were able to put their new skills to work in a very convincing mock drill Friday.
"They are cool, calm and collected," camp organizer Ruth Marie Oliver told WHNT News 19 as she observed kids carrying a patient to a waiting ambulance. "These are tomorrow's leaders and we are giving them skills to really make a difference in their communities," Oliver added.
The mock disaster marked the end of Be Ready Camp. A graduation ceremony will be held for the students Saturday.