This is an archived article and the information in the article may be outdated. Please look at the time stamp on the story to see when it was last updated.
MADISON, Ala. (WHNT) – He moves slowly, painfully.
Using a walker and aided by his son, Sureshbhai Patel moves from the bedroom to the living room of the home they now share in Madison.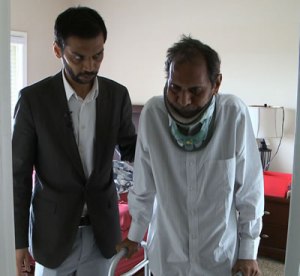 It's been more than two months since an encounter with a Madison police officer left this grandfather from India partially paralyzed.
Instead of playing with his 19-month-old grandson and helping his son and daughter-in-law as he had planned, the 57-year-old is now the one in need of help.
After one week in the hospital, emergency spinal surgery and six weeks of in-patient rehabilitation, Patel's family says his condition has improved but his recovery is far from complete.
The Patels and their attorney invited WHNT News 19 and our news partners Al.com for an exclusive interview on Thursday.
His son, Chirag, says there is continued weakness in his father's left side. "When he walks, he uses his shoulders to pull his body forward [with the walker] and… he drags his left leg."
Nurses come to the family's home three times a week for two hours of physical and occupational therapy.  The other days, Patel goes through the exercises with the help of family members.
They say it's an exhausting process that leaves him with little energy to do anything else but he remains committed to recovery.  They all hope he will one day walk independently again.
Unfortunately, doctors have been unable to provide them with a definite prognosis, saying only that the full extent of recovery won't be known for another several months.
In the meantime, Sureshbhai Patel's wife, the mother of Chirag, is making plans to join the rest of the family in the U.S.
When her husband arrived on January 31, it was for an extended visit to help his son and daughter-in-law with their baby, who was experiencing developmental delays after a premature birth.
Now, the move appears permanent.
Use of Force incident
On February 6, 2015, a neighbor called police about a suspicious man walking in a neighborhood off County Line Road. The caller said a man was walking on driveways and looking in garages. The caller lives in the neighborhood but didn't recognize the man.
Two Madison Police officers responded to the 100 block of Hardiman Place Lane. Two officers, one of them Eric Parker, spotted Sureshbhai Patel walking on the sidewalk. They got out of the patrol car, walked up to him and started to question him. "Do you live here?" "What's your address?"
Video of the incident shows a definite language barrier. Mr. Patel does not speak English.
The officers then ask Patel not to jerk away.  An officer repeats that, and soon afterward, Patel is thrown down.
The Patel family filed a federal lawsuit February 12 against the City of Madison and Eric Parker.
That lawsuit was stayed after Parker was indicted by a federal grand jury on civil rights violations.
The Patels' attorney, Hank Sherrod, says that shouldn't complicate the lawsuit.
"We couldn't even go forward with the civil case until Mr. Patel reaches full recovery," he says.
Parker was charged with third-degree assault for the incident in Limestone County and recommended for termination.
A hearing on the state case is scheduled for May 13.
Meanwhile, the federal case is moving forward. An arraignment is set for April 21.
Madison's Police Chief and the City of Madison apologized to the family and the Indian community over the incident.
We'll have more coverage of Patel's recovery in our newscasts Thursday evening on WHNT News 19.