This is an archived article and the information in the article may be outdated. Please look at the time stamp on the story to see when it was last updated.
HUNTSVILLE, Ala. (WHNT) - Big changes are coming for Research Park East. City leaders recently unveiled a new master plan for the area and a facelift for the Madison Square Mall site, known as MidCity Huntsville, is in the works.
The long-term development for both plans focuses on aging and underutilized locations. Huntsville City officials said over the last five years, the area has experienced a seventy percent decrease in property value.
"What we're doing with MidCity is going to drastically enhance their property values because now they're living in proximity to a vibrant area, as opposed to the old Madison Square Mall," said Huntsville City Council President Will Culver.
In 2015, the area also logged nearly 1,500 calls to the Huntsville Police Department.
"Calls for service as it relates to the police department had become the largest in the city of Huntsville, so now that we're doing this, we're going to fix those concerns," he said.
Culver added that the plans state that they will not result in the relocation of any permanent residents for nearby neighborhoods, like Sherwood Park.
"It is zoned strictly residential," he said, "we do plan to keep it that way."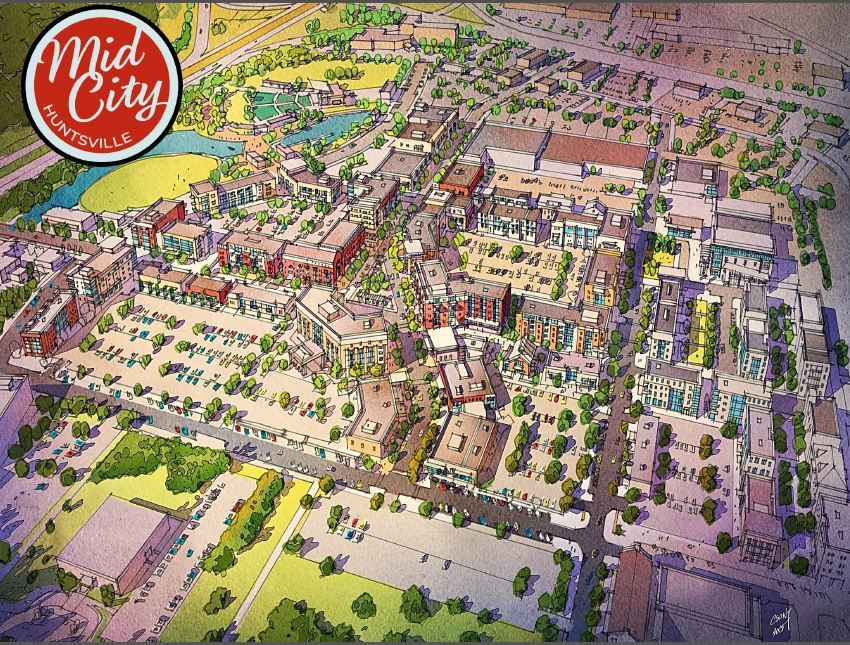 As for MidCity Huntsville, the mixed-use development will transform the 560 acre Madison Square Mall site into 550,000 square feet of retail space, accented by offices, multi-family units, hotels and green space.
"With us revitalizing that area, it's going to make the entire East Research Park more vibrant and more conducive for other businesses to come into the area and for those businesses that are currently there to remain there," said Culver.
In order to make these changes happen though, many of the buildings on the property will need to be demolished. The city has notified the owners, but has yet to come to agreements with Sears, J.C. Penny and Madison Square 12 Cinema. The movie theater recently underwent a more than $2 million renovation. Most of these businesses say they plan to fight the proposed changes to the site.
"If that were to happen, then this project will not be successful," said Culver.
The project's design phase is expected to be complete this year, with work slated to begin in 2017. RCP, the project's developer, will present detailed plans to Huntsville leaders within the next two months.
To learn more about MidCity Huntsville, click here. To learn more about the Cummings Research Park Master Plan, click here.