This is an archived article and the information in the article may be outdated. Please look at the time stamp on the story to see when it was last updated.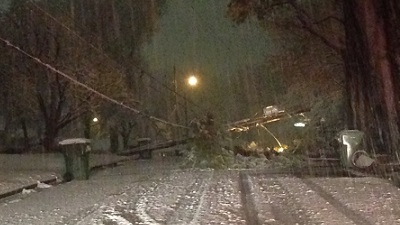 TENNESSEE VALLEY, (WHNT) – Utility crews have been busy throughout the overnight and early morning hours, and most of Thursday working to restore power in several parts of north Alabama.
Shortly after 11 a.m. approximately 200 Huntsville Utilities customers were still without power from the storm.   HU has 30 crews currently working restoring services to customers.
All large outages have been repaired and crews are now working on the remaining smaller outages.  See the current Huntsville Utilities power outage map here.
Outages are scattered in different counties, mainly because of wet, heavy snow causing trees to fall on power lines.
Athens/Limestone County
Athens Utilities crews have been busy responding to scattered outages since late Wednesday night.
Lawrence & Morgan Counties
Joe Wheeler Electric EMC have also been working for several hours to restore services to about 1,000 customers. The outages are scattered in different parts of Lawrence and Morgan counties.
Marshall County
Crews with the various utility providers have been working all night, responding to scattered outages throughout Marshall County.
Albertville Municipal Utility Board said it had less than 50 customers without power on Thursday morning. The outages were sporadic, and many have been repaired. Crews are still working to restore the remaining outages as of 9:20 a.m.
Arab Utilities says it is aware of outages spread throughout the service area. They do have crews out working to make repairs. They do not have an estimated time for the repairs to be completed.
Guntersville Electric says it has several hundred customers without power, as of 7:22 a.m.
North Alabama Electric says it has crews working to repair the widespread outages in its service area.