This is an archived article and the information in the article may be outdated. Please look at the time stamp on the story to see when it was last updated.
HUNTSVILLE, Ala. – It is hard to believe that on this day 25 years ago, my father, Grady Reeves, passed away.
One big reason for that is there's not a day goes by that someone doesn't come up to me and say, "I knew your dad," or "I used to watch your dad on TV when I was just a kid," or something like that. I often get called Grady which I take as a compliment.  After all, I do look a good deal like him and he left quite a legacy.
Sometimes I am amazed at the stories I hear about him. But then again, I have some of my own and I would like to share a few of them with you.
Back in the 1950s, Dad did high school football play-by-play for the Butler Rebels on WBHP radio. I went along to all the games and even though I was only 6 and 7 years old at the time, I knew all the Rebels players' names and numbers. We would set up the broadcast equipment in the press boxes of the various stadiums around the Valley and I would watch the game through binoculars to better see the numbers of the players. Dad would take a manila folder, open it so he could put the offensive and defensive positions on the two sides and then put the numbers of the players corresponding to the positions. He did this for both teams so he could call the game and name the players involved in each play without a delay.
I was the spotter for Butler and there would always be someone from the other school, usually a student, who knew their players. Dad would set the stage for each play and as it developed, I would point to the number of the person carrying the ball or making the tackle and the other spotter would do the same so the broadcast would be seamless and the listener would actually feel as if they were in the action.
Before each game, Dad would always caution the other person about watching what he said because the microphone was always hot in those days. We've all heard some of the bloopers made by announcers, some worse than others.  One time we were in Cullman and it was in the 3rd quarter.  Butler was killing the Bearcats 44-0 when the Cullman fullback busted up the middle and was off to the races.
The student doing the spotting for Cullman screamed, "Look at that (bleep) go!" As soon as he said it, he realized what he had done and looked like he was trying to get the words back in his mouth and at the same time find a small crack in which to hide. I looked to see Dad's reaction, but didn't see him. I quickly realized he had laughed so hard, he fell off his stool and was lying on the floor. It took a minute or so for him to regain his composure. Once he did, he went right back to the game as if nothing had happened.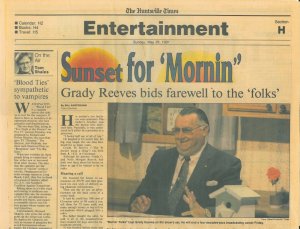 One night we were at Goldsmith-Schiffman Stadium in Huntsville and Butler was playing Huntsville High. This was the biggest rivalry around in those days and it was a very exciting game. One thing about Dad, he would get just as excited as the fans and would deliver that excitement over the air.  He wore dentures, an upper plate, because he had lost his front teeth playing football in school. He got so excited in this game, he actually spit out his upper plate which went sailing out of the press box and into the crowd below. He went on and finished the ballgame.  But, guess who had to go under the bleachers to look for the false teeth? Yep, it was me. Luckily I found them.  Though based on everything under those bleachers, I'm not sure I would have put them back in my mouth.
The fun thing about radio is you can tell a story and if you're good enough, have people experience anything you want them to believe.  There was a player for the Rebels, one of the nicest guys one could meet, but not all that good as a player. In fact, he rarely – if ever – got into a game. That changed one night when Dad made him the star of the game. This player made several key tackles in a row, stopped a late scoring drive by the other team and later recovered a fumble for the game winning touchdown, all while still sitting on the bench! You see, the player, whose name I will not reveal was a senior and his parents were hoping he would get to play in his last game. Dad made sure he did, at least to those listening to the game on radio. I see that gentleman from time to time and he has never forgotten what Dad did that night and as far as I know, he never told his parents any different.
Thank you for helping me keep these memories alive and I promise I will share some others over time and hope that you will continue to share your memories with me.  Send an email to robert.reeves@whnt.com or message me on my Facebook Page.