This is an archived article and the information in the article may be outdated. Please look at the time stamp on the story to see when it was last updated.
HUNTSVILLE, Ala. – On Sunday, Trinity United Methodist Church celebrated its 60th birthday by giving instead of receiving.  Members were assigned a large task.
"We're a big missions church so we decided to celebrate by packing 60,000 meals for Stop Hunger Now," said Amy McBroom.
Dozens of church goers volunteered their time to dump, pack and seal meals for people they might never meet.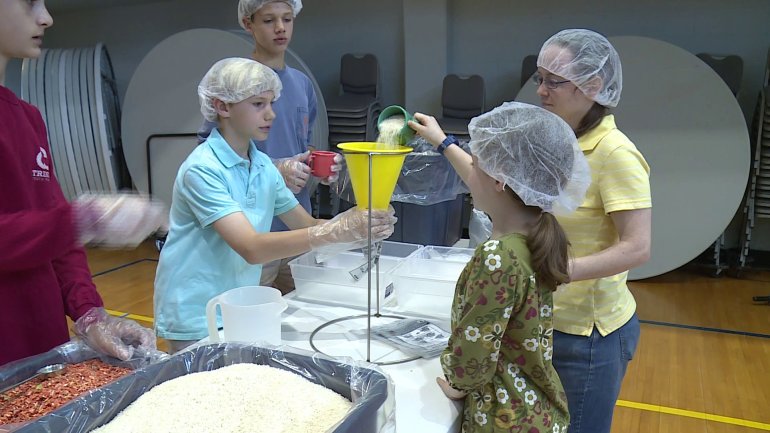 "Because missions is really our heart, we decided instead of, we wanted to honor our background but we wanted to look forward at the other mission work that we're going to be doing as we move forward in Huntsville," said McBroom.
Claire Lowe is one of people who worked to stuff the six-serving bags.  "I want to do something to help," she said.
Lowe says she's grateful to give back at a church that's given much to her family.
"It's very special for me because I've been here since I was born, my parents have gone here," said Lowe.
Trinity United Methodist Church describes its vision as "We are the love of Christ in action."
"We like to reflect that in everything we do," said McBroom.
By partnering with a non-profit that has provided 225 million meals in 73 countries, the church says the meal packing activity helps fulfill their purpose.
"They go to people either who need it here in the United States or need it around the world, wherever the most immediate need is," said McBroom.