This is an archived article and the information in the article may be outdated. Please look at the time stamp on the story to see when it was last updated.
HUNTSVILLE, Ala. - It's an impossible burden. The Hartman family has struggled since the murder of Robert Hartman in 1996.  In one month, his convicted killer -- Burman Lee Akers, Jr. -- will come up for parole for a third time.
Robert's widow prepares to make her plea again.
"His throat was slit numerous times, and there were stab wounds on his chest," said Bernadette Hartman Van Pelt.
The Hartman family struggles to hold on to happier images of Robert, once the smiling family man. He was headed to a wedding on September 7, 1996 and a family member went to check on him.
"My son, who actually ended up finding him in a pool of blood with his body turned over and his wallet stolen, there was blood all over the room," said Bernadette.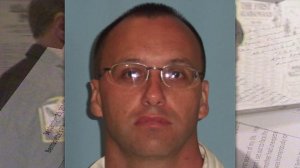 But the jury came to a verdict of felony murder, rather than capital, for Akers.  That means he comes up for parole.
The Hartman family has fought that since the beginning, with letters and pleas.
"This is our third trip to Montgomery to keep him in. He's been in prison now for approximately 20 years," Bernadette said.
Every five years, the Hartman family finds themselves going back in time -- to a warm smile, and the man who took it from them.
"We're kind of consumed with it until we can go down there and make our plea."
And they'll do so again in a few weeks.  Akers is up for parole on September 20, the same day as Jeffrey Franklin, another Huntsville killer.
Bernadette encourages friends and supporters to mail a letter to this address:
Alabama Board of Pardons and Paroles
P.O. Box 302405
Montgomery, Al 36130-2405
The person writing the letter should note it is in reference to Burman Lee Akers, AIS# 194800.
Bernadette also requests the letter should mention how Robert Hartman's death affected them, or if they know his family and have seen what they have gone through.  She also requests supporters to ask the Board to to sentence Akers to at least the maximum time of five more years in prison.
We'll have more with Robert's widow, who has broken her silence after 20 years.  Our full report airs tonight -- Thursday, August 25 -- on WHNT News 19 at 10:00 p.m.