This is an archived article and the information in the article may be outdated. Please look at the time stamp on the story to see when it was last updated.
HUNTSVILLE, Ala. – A new school planned in Huntsville will educate high school students about the growing field of cybersecurity.
Governor Kay Ivey announced the school's creation during her State of the State address Tuesday in Montgomery:
"Tonight, I am announcing, the formation of the Alabama School of Cyber-Technology and Engineering, which will be based in Huntsville. This school will prepare some of our state's highest-achieving students to enter the growing fields of cyber technology and engineering. Just as Huntsville has always been on the leading edge of the rocket and aerospace industries, the Alabama School of Cyber-Technology and Engineering will ensure that Alabama students are at the forefront of today's emerging technologies."
Alabama currently operates two statewide public magnet high schools: the Alabama School of Fine Arts in Birmingham and the Alabama School of Mathematics and Science in Mobile. Both schools were started with state funds.
Senator Arthur Orr (R-Decatur) says this would be similar, only it would educate Alabamians to enter fields in cyber and engineering.
"We are very pleased to see it and we will be supporting it financially in the budget process," he said in an interview with WHNT News 19. "To me, it's very visionary. It's a good thing for our state and it will certainly be a good thing for North Alabama to have this institution in our area and be state-supported.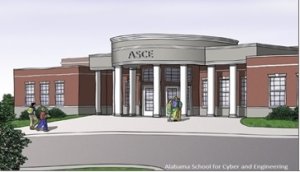 WHNT News 19 is learning more details about what the school would be like. You'll find a rendering of it, provided by the Huntsville-Madison County Chamber of Commerce, to the left.
The goal is that, by educating students in these fields locally, Alabamians can be the future of this new and exciting industry.
"It's an exciting addition I think, to Huntsville, that will attract families from across the country," said Sen. Orr.
The Chamber said the goal is to begin classes with a first group of students in August 2020.
Later, the school would serve more than 300 students in grades 7-12. While there are no locations announced, Orr said there were some ideas being considered. He did not hint as to what those possible locations were.
A Chamber of Commerce flyer states that the ASCE would "provide a world-class educational opportunity for Alabama High School students. The curriculum and extra-curricular activities will promote advanced opportunities in challenging cyber and engineering fields while sustaining the fundamentals of a quality education. The school will benefit students through the theory and practice of cyber and engineering skills, exposure to career opportunities, scholarship opportunities and networking in America's #1 city for technology and engineering."
There is still a long way to go with funding, but there are efforts already underway to launch the school.
Orr said he will start working on the funding in the Legislature.
"I'll be carrying a supplemental appropriation bill to start the funding process, and then we'll have a line item in the budget for initial seed money. And the hope would be that next year we are looking at a bond issue for our public schools and colleges. In that bond issue, there would be funding to begin a dormitory for the school."
"We applaud Governor Ivey's leadership to create the Alabama School of Cyber and Engineering. Governor Ivey knows first-hand how important education is in shaping young people's lives and helping them to pursue careers that are rewarding," said Mike Ward, Sr. Vice President of the Huntsville/ Madison County Chamber in a news release.
"The community has worked closely with Senator Arthur Orr, and House Speaker Mac McCutcheon and Huntsville City leaders to develop and advance this idea," said Pat Sullivan, Vice President, Cyber Huntsville through a news release. "We look forward to the establishment of the ASCE and have great confidence it will serve the State of Alabama in the advancement of educational opportunities and economic growth."