This is an archived article and the information in the article may be outdated. Please look at the time stamp on the story to see when it was last updated.
HUNTSVILLE, Ala. — Rachel Clark inspects a group of small children flying through the air and zooming like rockets into the weightless feeling of the cool blue.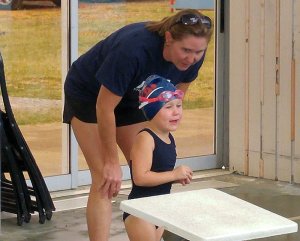 As several swimmers overcome the fear of diving off the blocks for the first time, smiles appear underwater. Bubbles tickle faces like tiny sea creatures.
When they rise to the surface and joyfully whale away to the other side, Clark is waiting for their splashdown. She's cheering and reminding them to streamline better on their next set of blast-offs.
Mentoring youngsters with such transfixed devotion in competitive year-round swimming is no small feat, yet Clark appears as excited as her students.
No longer does she even have to close her eyes to transport back to the magic of childhood.
For the new Huntsville Swim Association intro group assistant coach, the fascination appears right before her eyes. The rough pool deck concrete is back under her bare feet in this place where she swam competitively as a youth. The eerie sense of silence returns when she dives under the surface to closely inspect the strokes.
HSA hosts the Fran Norris Invitational, Oct. 21-23, at the Brahan Spring Park Natatorium. Competition starts at 5:30 p.m. on Friday, Oct. 21. Age 10-and-under swimmers begin at 8:30 a.m. Saturday and Sunday with older athletes competing in the afternoon.
"I love getting in the water every day, seeing them improve, especially at meets when it's time to really shine," Clark said. "This is so much fun, but challenging at the same time."
The 1998 Huntsville High School graduate earned a master's degree in special education from Auburn University in 2003. She has a behavioral analyst certification and is also employed at the Riley Behavioral and Education Center, a private school for children with autism.
"Rachel and I have worked together with Blossomwood in the summer league for at least 15 years," said Susan Swing, the lead coach for HSA's intro group. "She grew up swimming for Randolph when they had a summer league team. She swam for HSA, too, and is now a phenomenal tri-athlete."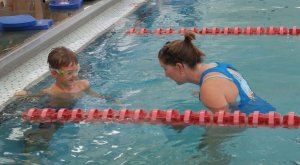 Swing has taught swim lessons and worked with various teams for 37 years. She began swimming at age 5 in Mobile, competing 12 years with the Spring Hill Swim Club. She started year-round competition at age 8 with a YMCA team and later joined the City of Mobile Swim Association.
A graduate of Rhodes College in Memphis, Tenn., Swing obtained a master's degree in therapeutic recreation from the University of the South.
She has served on the RCSL and NAHSSL swim boards and currently is also an assistant swim coach at Huntsville High School.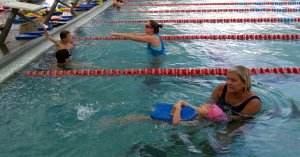 When not at the pool, Swing is a fifth grade special education teacher, working with autistic and developmentally delayed students at Whitesburg in the Huntsville public school system.
Swing says she has worked with Clark so long they often finish each other's sentences.
"We're like an old married couple," Swing quipped. "We have a good rapport and are definitely on the same page."
"We have a lot in common," Clark added. "Susan works with special needs kids as well and has a strong swimming background. She is a good role model for the kids, very energetic and supportive. She knows how to get on their level to motivate and encourage them."
Clark turns to talk to her group and reapply a swim cap with a quick flip atop a little girl's head, while Swing carefully adjusts a pair of goggles for a swimmer a lane away.
These children are their second family. The aim is to make them all good teammates as well as talented young athletes. Awkward movements soon become those of survival and grace.
Swing mainly focuses on the newer swimmers, teaching them how to breathe from the side, kicking the correct way and holding a streamline. Clark instructs some of the more advanced intro students and focuses more on starts and stroke technique.
"Hiring Rachel (Clark) was a natural fit for what we want to do with that group and a good addition to our staff," said HSA Head Coach Matt Webber.
Webber added the intro group to the team in 2014. Swing says Webber's philosophy is not for swimmers to just survive at first, but for them to thrive. The intro group continues to grow and is what Swing and Clark passionately call the backbone and future.
"When we started the group, we had one half-hour class two days a week," Swing said. "We now have multiple classes Monday through Saturday. People are on a waiting list. We have a couple of 4-year-olds and some up to the age of 9 and 10. What makes it really rewarding is how they love to get in the water and learn at this stage of development."
Practice is nearly over now. They all join hands. One more countdown remains. An excited improving swimmer is elected to yell out, three-two-one. All the teammates proudly cheer the team name. As they scatter like minnows in all directions, several stop to hug their coaches before finding their adoring parents.
"That is probably the biggest reward for us, the pure love in these young children's hearts," Clark said.