This is an archived article and the information in the article may be outdated. Please look at the time stamp on the story to see when it was last updated.
HUNTSVILLE, Ala. -- The debate has been reignited. 12 years ago Pluto was downgraded from planet to a "dwarf" planet.
This week an article published in a scientific journal claims the rationale behind that decision wasn't valid. It's a debate of galactic proportion, but opinions seem to be gravitating in one direction.
In a Twitter poll, more than 90% of voters think Pluto should be considered a planet.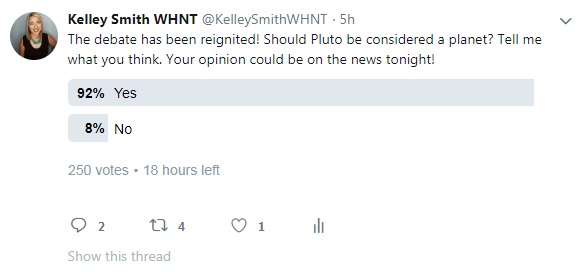 "When I was in school it was a planet growing up I was taught it was a planet," Huntsville resident Jake Whit said.
"My very educated mother just served us 9 pizzas. 'P' was for Pluto," Huntsville resident Brekke Johnson said.
But what does the scientific community think?
"M shirt says it. So, this is Pluto asking can I be a planet now," Dr. Naveen Vedcha said. He is a member of the Von Braun Astrological Society and works for NASA.
According to the International Astronomical Union (IAU), there are 3 criteria for being called a planet.  It has to orbit the sun, have a spherical shape and be able to clear the neighborhood (be able to knock other rocks out of its orbit).
The scientist who lead the charge against calling Pluto a planet, Mike Brown, is from Huntsville. In 2011, he visited the Rocket City and to explain why Pluto doesn't meet the third requirement.
"Pluto is one in a big band of junk, and that was my main role was finding even more of the junk, and making it known that Pluto was part of that junk," Mike Brown said.
The study released this week says only one piece of literature written in the past 200 years uses that as a requirement to be called a planet. It was written in 1802.
Vedcha says people should focus on Pluto's spherical shape. That shape starts geological processes.
"There are mountains on top of it, you can see this methane ice, and there is probably an ocean," he said.
He hopes this argument can lead to Pluto once again being called a planet.
While the debate has reignited this week, no motions have been made with the IAU to change Pluto's status as a "dwarf" planet.