This is an archived article and the information in the article may be outdated. Please look at the time stamp on the story to see when it was last updated.
HUNTSVILLE, Ala. - "This is something we don't see here very often, as far as the edibles go," said Sgt. Jerry King. "The marijuana edibles can be anywhere from gummies to lollipops."
Or in this case: taffy.
"If you look at that stuff you can see it's packaged to resemble candy. And that's a major concern for us," said Huntsville Police Chief Mark McMurray.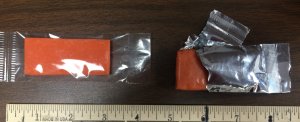 Because it could fall into the hands of our kids. "Besides being the leafy marijuana, like that wasn't tempting enough for our kids, who are starting to smoke, they've added the THC to a candy form. As you see it looks every edible, and fun to try," said Chief McMurray.
McMurray says marijuana is a gateway drug that leads to other drug use and warns parents of what could be right under their noses. "If you suspect your child is high but aren't finding marijuana, but yet you're finding something like that in its place, then that would be an indicator as well," said King.
Police say the marijuana candy does have a slight smell, and suggest if you see anything suspicious to throw it out.  Officers do have kits on hand to test candy, but said they only work for meth and cocaine.
Huntsville STAC agents seized an estimated $1 million worth of drugs during a raid earlier this week, including a large amount of edible marijuana candy.