This is an archived article and the information in the article may be outdated. Please look at the time stamp on the story to see when it was last updated.
HUNTSVILLE, Ala. - Police are investigating a possible case of animal cruelty, but they're not sure at this point who is responsible. The dog, a female rottweiler, was shot three times on Saturday, January 2nd.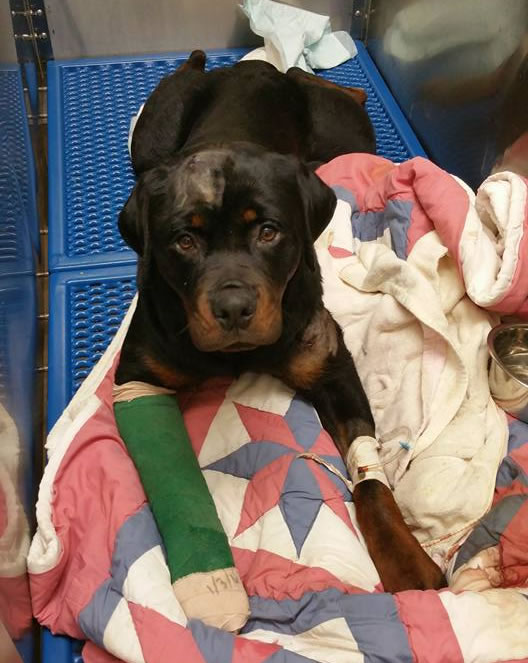 Millie is making good progress, believe it or not, despite being shot in the head, shoulder and one of her front paws.  She is in the care of a foster home set up by Huntsville Animal Services.
Lt. Stacy Bates, spokesperson for the Huntsville Police Department, said officers responded to a call of shots fired in the area of Clubview Drive NW on Saturday, January 2nd.  This is off of Oakwood Avenue, east of Jordan Lane.  One street over from Clubview, on Sebring Street, they found a house with a bullet hole in one of the windows. They found some more shell casings a few houses away and found the dog shot nearby.
Police got Millie to an emergency veterinarian, who operated on her and removed the bullets.
Police have been talking with the dog's owner, as well as several other people, and they're still trying to get to the bottom of how the dog was shot.
"There may have been a party at a house," said Lt. Bates. "At some point, the dog was shot by someone. We don't know who. We're working with the owner and still questioning people to find out exactly what happened."
Lt. Bates said the owner mentioned in the past he has had issues with male dogs jumping his fence, attacking his female dog. Officers noticed dogs jumping over the fence while they were there, looking for Millie.
Bates said it's not clear how long the investigation will take, it just depends on what they find out as they talk with people further. If you have any information about what happened, please call (256) 722-7100.  The dog may be returned to its owner if no charges are filed.
"We take these cases serious as we would with any case. If a law has been broken, we're going to enforce it to the fullest extent that we can," said Lt. Bates.
As for Millie, she's rebounding quite well, according to Huntsville Animal Services Director Karen Hill Sheppard.  The dog was well cared for at the emergency veterinary clinic over the weekend and then turned over to the city.
" We believe she will completely recover from her injuries," said Dr. Sheppard. "Huntsville Animal Services will manage recovery of the dog, pain management and such."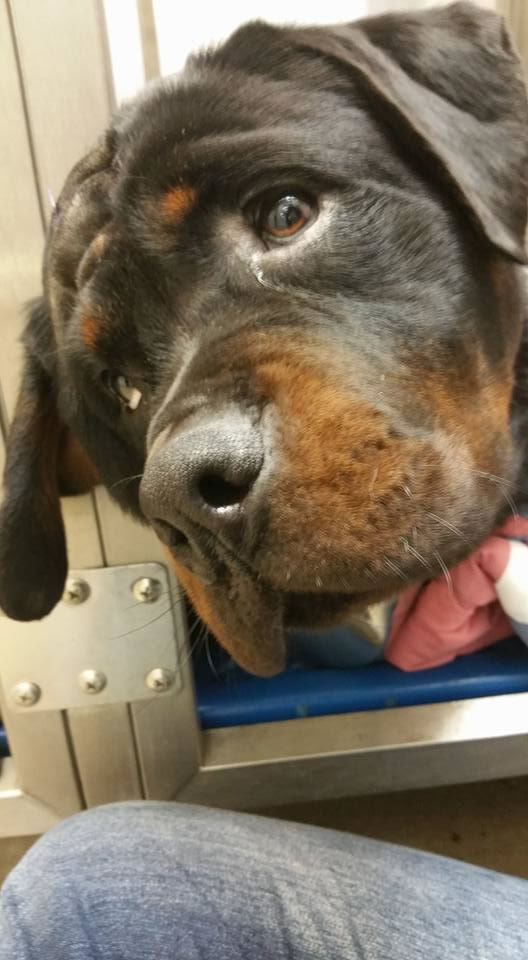 Millie is with a foster parent right now, who is making sure the dog takes all of her medicine.  She's also putting weight on her paw and perking up.  Dr. Sheppard said the community has responded to the case, and two people have even dropped off items for Millie, including a card signed by a family and their pets, and another gift, a beautiful care package filled with dog treats.
"It just shows how compassionate our community is. We are their voice -- this doesn't surprise me at all for Huntsville. We love our animals - we want them to be loved and respected and honored," said Dr. Sheppard.