This is an archived article and the information in the article may be outdated. Please look at the time stamp on the story to see when it was last updated.
HUNTSVILLE, Ala. — A Huntsville Police Department officer has been indicted on a murder charge stemming from on-duty shooting in April on Deramus Avenue. Police confirmed Darby was relieved of his patrol duties immediately after the shooting. He is working in an "administrative capacity" until his day in court.
William Benjamin Darby, who graduated the HPD police academy in July 2016, was indicted by a Madison County grand jury in the killing of 49-year-old Jeffery Louis Parker at Parker's home.  Parker had called 911 saying he was suicidal.
The indictment is in sharp contrast to the Huntsville Police Department's review of the case which found that Darby acted within department policy in the shooting.
The shooting review board's decision was announced in May.
The Huntsville Police Department said at the time, "A review of the case to include all video footage, physical evidence, and officer's testimony was presented. The Incident Review Board found that all officers involved performed within Huntsville Police Policies, Procedures and Training."
But the grand jury saw it differently. Under Alabama law, a murder charge requires the element of "intent," meaning the defendant meant to kill the victim.
"Usually what you're looking at is whether an officer feared for his life … and on these particular facts of the case, we had concern that this was not a justified shooting," Madison County District Attorney Robert Broussard said.
The fatal incident April 3 began with Parker's 911 call. He told dispatchers he was suicidal and had a gun, according to the Huntsville Police Department.
Parker's fiancée, Michele Louthan was upstairs in their shared home at the time of the shooting. She didn't know Parker had called police until she heard the fatal shot.
Louthan said she learned from the officers that Parker had told the 911 dispatchers he had a gun, wanted to blow his brains out and the door was open.
Three officers responded to the scene and they spoke to Parker.
The Huntsville Police Department said several commands were issued to Parker to drop the gun, then, "one shot was fired by one of the officers striking Parker and he died as a result."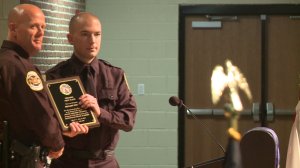 Louthan said Parker died from a single shot.
The grand jury that indicted Darby saw body camera video of the incident from all three officers that were there, as well as their recorded interviews after the shooting, Broussard said. They also heard from HPD witnesses who testified about the department's training.
"The evidence is complete," he said. "It's very thorough."
WHNT News 19 requested the body cam video again on Friday, but Huntsville Police said once it is turned over to another agency, in this case the district attorney's office, the department can no longer make the decision to turn it over.
Darby graduated from the Huntsville Police Department academy and was recognized at graduation for his marksmanship. He received the "Top Gun Firearms Award" at the graduation ceremony, earning the top score among the cadets for pistol and shotgun accuracy.
Huntsville Police Chief Mark McMurray read a written statement at a news conference Friday afternoon, saying Darby was "called upon to make split-second decisions in a nightmare scenario."
"Officer Darby performed his duties in accordance with his training," McMurray said. "He is by no means a murderer."
Huntsville Mayor Tommy Battle released a statement after the news conferences stating Darby had his full support.
"As a valued and responsible member of our force, he acted in accordance with his training," Battle said in the statement. "Please accord him the same presumption of innocence as all Americans are entitled."
Donny Shaw, president of the local Fraternal Order of Police, also released a statement supporting Darby.
"TL Blakemore Fraternal Order of Police Lodge 6 supports the Huntsville Police Department and the City of Huntsville in their efforts to see that Officer William Darby receives due process as an employee and through the upcoming judicial process," Shaw said.
Darby was relieved of his police officer duties, McMurray said.
He posted a $40,000 bond and was released from the Madison County Jail minutes after he was booked in, online jail records show.
WHNT spoke with Attorney Martin Weinberg who represents the Parker Family. He notes the family was pleased with the announcement made by officials and sympathy expressed.
"We thank them for doing their job we will learn exactly what happened. We feel like the treatment of mentally ill folks need to be addressed," Weinberg noted.
Parker`s fiancée says he suffered from Post-traumatic Stress Disorder.
The family`s attorney wouldn`t comment on Parker's mental state but believes everyone should talk about it.
"We just don`t have the resources for a number of reasons. [It's] something we definitely want to look into," Weinberg stated. "The most important issue in this case is getting justice and making sure the family has the answers."
Weinberg says the family plans view how the murder charge against Officer William Darby works out.
A trial date of Oct. 29 is already set.