This is an archived article and the information in the article may be outdated. Please look at the time stamp on the story to see when it was last updated.
HUNTSVILLE, Ala. – Huntsville Police are investigating a shooting on Williamsburg Drive on Saturday night that left one person dead.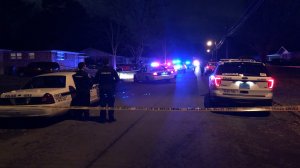 Undertakers with the Madison County Coroners Office removed a body from the scene shortly after 10:30 p.m.
One person is in custody and is being taken to the Huntsville Police Department, according to authorities. Police did not confirm if the person in custody is a suspect.