This is an archived article and the information in the article may be outdated. Please look at the time stamp on the story to see when it was last updated.
HUNTSVILLE, Ala. (WHNT) – You may not know the name Marie Bostick – but if you take a look at any of the major developments that have sprung up in Huntsville over the past nearly 30 years – you're seeing the fruits of the municipal government powerhouse's handiwork.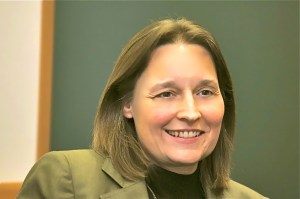 Bostick – one of the behind-the-scenes and widely unsung heroes of Huntsville's success toolkit as the city's manager of planning and zoning administration – announced Monday she will retire Friday after a 26-year career.
"You're always looking for that next thing and wanting to stay a step ahead and really engage people in that process," says Bostick, who has served under four Huntsville mayors.
Bostick says they all have been progressive visionaries, which has made her job a pleasure – and a challenge:
"The city in a lot of ways always takes on the personality of the mayor," says Bostick, "but we've always been a very progressive city."
In addition to supervising the daily grind of planning and zoning issues, Bostick has most recently been heavily involved in two ongoing downtown mixed-use projects: Twickenham Square and The Avenue. She was recently named 2012-13 Downtown Advocate of the Year by Downtown Huntsville, Inc.
Bostick will now take the helm as the new executive director for The Land Trust of North Alabama.
She replaces Cynthia Potts, who stepped down from the Land Trust in December to become vice president for advancement at Huntsville Botanical Garden.
The new position is right up Bostick's alley. Bostick has already served on the Land Trust Board for five terms, chairing last year. She explains her first project when she started with the city in the late 1980s was to help develop greenways.
"If I had to pick the one thing that I enjoyed and am the most proud of it would be the greenways," says Bostick, who remembers public hearings when attendees threw chairs across the room because they thought walking trails would lead criminals to burglarize nearby homes.
Bostick has enjoyed a front-row seat for the metamorphosis of Huntsville – seen edifices rise and crumble, witnessed no shortage of ribbon cuttings, watched ideas come to fruition or fizzle out – and offered technical and local expertise you just can't find by posting an advertisement in the classifieds.
"When you look at all the progress this city has made – everything that's happened – you can say that she's done a wonderful job."
Mayor Tommy Battle says finding someone to fill Bostick's shoes will not be an easy task but that she has fostered an interest in planning, and there are people within City Hall right now who, under her tutelage, make fitting candidates.
"We'll have a good search to find the right person to fit in that slot and we have a lot of people who have interest in planning in City Hall," said Battle.  "We have a lot of people outside in the community who have an interest in planning."
But it takes more than a degree or a good reference to be as successful as Bostick has been.
"How do we make sure we have the roads, the drainage, the sewer, the water – all the things that make a quality development and how do we also keep a quality of life tied into that planning process?" Mayor Battle will ask of the next planning candidate. "It's got to be someone with some passion," he finished.
"Willingness to learn," answered Bostick. "Willingness to make the relationships – that's so much of what I do."
"Being a part of what I call my hometown and being a part of watching it grow and shaping its future has been phenomenal."