This is an archived article and the information in the article may be outdated. Please look at the time stamp on the story to see when it was last updated.
HUNTSVILLE, Ala. – Huntsville native and 2008 Madison County High School graduate Sharun Wills is serving with the Assault Craft Unit TWO (ACU 2) in the United States Navy. The ACU 2 is one of the most advanced warfare units that operate landing craft, which are specialized to transport personnel and equipment from surface ships to shore.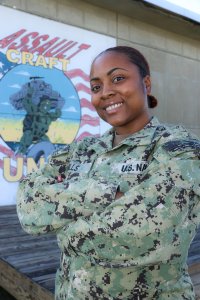 Petty Officer 2nd Class Sharun Wills is an electronics technician with a group based in Virginia Beach, Virginia. She is responsible for repairing and maintaining the electronic equipment on board the craft.
Navy officials say the exercises and real-world operations that these sailors participate in include thing like the evacuation of American citizens from a hostile territory, delivery of food and medical supplies after a natural disaster.
Each job involved is highly specialized and keep each part of the command running smoothly, according to Navy officials.
"The Sailors, Chiefs, and Officers of Assault Craft Unit 2 work in conjunction with other Naval Beach Group elements to grant our Amphibious Ships heavy lift and over-the-horizon, extended-duration ship-to-shore movement with the Landing Craft Utility and Maritime Pre-positioning Force boats," said Cmdr. Thomas Mays, commanding officer, Assault Craft Unit 2. "We are proud to do our part in the Navy-Marine Corps team to project power or provide sustained assistance as needed around the world."
"It's really rewarding to serve my country and be part of a dynamic unit like ACU 2," said Wills.
With only two years of experience in the Navy, Wills credits her success to the many lessons learned while growing up in Huntsville.
"Stay true to yourself and never forget where you came from," said Wills. "You hear it a lot, but it's the truth."