This is an archived article and the information in the article may be outdated. Please look at the time stamp on the story to see when it was last updated.
HUNTSVILLE, Ala. (WHNT) – Huntsville Mayor Tommy Battle said the city will not bow to intimidation and threats, and that's exactly what he says a local developer made recently in a deal involving high-end outdoor store Cabela's.
Developer Louis Breland filed a lawsuit earlier this month, making allegations of illegal conduct.  The complaint does not name the city, but implies city leaders and employees took part in shady business dealings.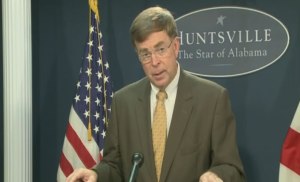 Mayor Battle called a news conference Tuesday afternoon to address the matter.  He says it was Breland who tried to threaten the city into benefiting him financially.
There was an emotional charge in the room, and the mayor wasted no time setting the tone.
"I really like doing the positive press conferences. The ones that make people feel better about their community," said Battle. "But every once in a while there are standards that we have to live up to as public officials and standards that we have to live up to as a city. There are standards that our citizens have to live up to."
The mayor says the lawsuit stems from a meeting the two had over developments surrounding the recruitment of Cabela's.  The mayor painstakingly detailed what he says happened in that meeting.
"Upon realizing that I would not do what he wanted, Mr. Breland responded with the following implied threats. His first comment was, 'This thing is going to get so dark and so ugly, and we don't need to go there. I'm telling you.' His next comment later in the conversation was, 'This is going to get so ugly, it's going to be unbelievable.' Later in the conversation he said, 'If y'all push us, this is going to go into a very dark place.' Later he said, "If we have to go there, it's going to get very, very dark place.' Later in the conversation he said, 'This is going to be. . . it's going to go to some dark places, I'm telling you.' We did take notes."
The Mayor said he reported the events of the meeting to the City Attorney, the Alabama Ethics Commission and the Madison County District Attorney's Office.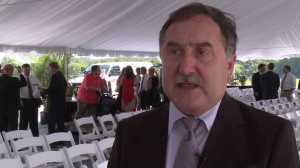 "I believe Mr. Breland's actions were way beyond the bounds of proper conduct. I leave the legality of Mr. Breland's actions in the hands of law enforcement. We do not, have not, and will not succumb to bullying," Battle said.
"All people — whether you're worth $5 or $5 million in the city of Huntsville, we treat you with dignity and respect," he added.
WHNT News 19 asked Battle if the meeting seemed out of character for Breland.
"I've known Louis Breland for a long time, and this conversation was… a little bit extraordinary," the mayor replied.
We also asked if there was another shoe to drop.
"I don't know," Battle said.
Breland offered the following response to Mayor Battle's press conference:
"On Aug. 5, I met with the Mayor and John Hamilton, at the Mayor's office and at his request. During that meeting, I discussed with him information that I had obtained as part of my research into the activities of my former employee, Mike Culbreath. Since that meeting, I have filed a civil action against Mr. Culbreath and other individuals and entities he is associated with, for actions Mr. Culbreath took while working for me. Neither the City of Huntsville nor any City employee is a defendant in that lawsuit. It is confusing to me that the Mayor views my lawsuit against my former employee as retaliation against the City, when neither the City nor any City official is a party to that lawsuit. I look forward to prosecuting my lawsuit against Mr. Culbreath and the other defendants and I welcome and invite any law enforcement officials to examine every aspect of this situation."