This is an archived article and the information in the article may be outdated. Please look at the time stamp on the story to see when it was last updated.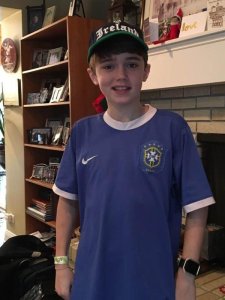 HUNTSVILLE, Ala. -- The death of a 12-year old Huntsville boy has stunned the community. Aaron Masterson passed away at Huntsville Hospital on Sunday from complications from the flu.
According to Huntsville City Schools officials, Aaron had a pre-existing cystic fibrosis condition that made his flu symptoms worse.
Aaron's untimely death has those closest to him reliving some of the best moments they shared with him. His contagious laughter will be sorely missed by his family and friends.
"I can even, I can hear them laughing upstairs sometimes," said family friend Brandy Worthy. "Just in the last few days I think I hear them up they're playing. And immediately I'm overcome with joy."
"We constantly are already going back and forth of between tears. Tears of sadness, then tears of joy," she said. "Sharing videos about him and laughter."
13-year-old Will Worthy met Aaron at the pool one summer seven years ago and they soon became best friends. Most of Will's favorite memories with Aaron involve mud, collisions, and troublemaking. "I have a wagon, and we got helmets, and I put him in the wagon, and he went down the hill," Will recalled. "He fell in the ditch. It was really fun."
Friends say Aaron was cool, he was a joker who made everyone sore from laughing, and was known for his ability to finish a whole pizza in one sitting. He always offered to help carry in the groceries and left everyone around him filled with joy.
Aaron's family is in the process of donating his organs. His pastor, John Mullaney said his organs will go on to help others, but Aaron has already made a difference in this world. "He's a hero. I mean he was just not somebody who complained. He impacted so many people, just in the way that he lived his life and who he was," said Pastor Mullaney.
"We are only one of the families, the many families, that were impacted and touched by Aaron's life," said Brandy Worthy. "There are hundreds more stories out there."
Monte Sano United Methodist Church says they are planning on organizing a prayer vigil for the Masterson family in the coming days.
Huntsville Junior High School Principal Stephanie Wiseman released the following statement to parents:
Good evening Panther Family,

Today has been a sad day for many members of our Huntsville Junior High School community.  One of our students, Aaron Masterson, died Sunday, February 4, 2018 at Huntsville Hospital due to complications from the Flu B.  As a school community, we send our condolences to his family and friends.  We will support the Masterson family and our students as we navigate the process of loss with counselors and lots of love.   Our students who knew him well along with those who did not know him at all will need love and support during this difficulty time as they struggle with questions about death and grief.  We will have additional counselors available here at school and areas designated for students to go to for support.

Please keep the Masterson family and our HJHS Panther Family in your thoughts and prayers.

Stephanie Wieseman | Principal

Huntsville Junior High School