This is an archived article and the information in the article may be outdated. Please look at the time stamp on the story to see when it was last updated.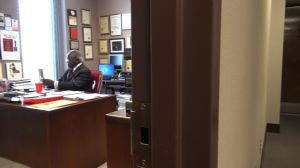 HUNTSVILLE, Ala. (WHNT) — In early June when a persisting cough plagued Huntsville City Councilman Richard Showers, he says his family physician told him he was likely experiencing typical cold symptoms.
"Zap," said Showers Monday, "I just got sick."
It was soon after Showers says he was diagnosed with pneumonia that immediately sent him to the hospital for a week-long stay. Aside from his presence last week inside the council chambers for the regularly scheduled meeting, Showers' absence at city council gatherings has been highly visible but little discussed. Showers was told to slow down in the interest of his health and well-being.
"Doctors advised me to rest, to not do anything; to not come to council meetings, to cancel all appointments, to not go out into my district — I was asked to not do any of that," said Showers.
Showers says since his election to the council in 1988, it has been his mission to be present and active in the communities he represents.
"To make sure the north part of the city was treated like any other part of the city, that the infrastructure, the quality of life would be equal," Showers said.
Showers said that involves much more than sitting behind a desk or fielding phone calls. Showers said he has always endeavored to be a councilman of the people and one who is visible and proactive in the community.
"But it has caught up with me," said Showers. "Now I've got to slow down, it is not easy to sit when you are used to moving but I do want to stay around here with you all. I'm not ready to leave here and I do understand that my ability to build my system back up is important."
Showers said despite his personal difficulty with pacing himself and regulating his activity level, he has done his best to remain obedient to doctors' orders for the past month. Showers said his health hiccup has in no way made him reconsider his ability to serve or made him question his immediate future on the council.
"I will be limited," admitted Showers, "But I will be visible, I'll still be making appearances, I will still be answering calls, I'll still be going out to neighborhoods and I'll still be working on behalf of District 1 to meet their needs, their concerns and their wishes."
Showers said he wished to thank his constituents for their concern, patience and understanding during his absence.
Most recently Showers attended last week's press conference to discuss the building of a new Memorial Parkway overpass at the intersection of Mastin Lake Road in 2018. At that meeting, Huntsville Mayor Tommy Battle said a recent Alabama Department of Transportation decision to delay the overpass until 2023 will add nearly $30 million to the cost.