This is an archived article and the information in the article may be outdated. Please look at the time stamp on the story to see when it was last updated.
HUNTSVILLE, Ala. (WHNT) – City and state leaders gathered at the Huntsville-Madison County Chamber of Commerce on Monday for a big announcement delivered from France during the annual Paris Air Show.
Sierra Nevada Corporation will conduct preliminary studies in Huntsville to see if the company can land its newest spacecraft, Dream Chaser, at Huntsville International Airport.  If this happens, Huntsville would enter a class all its own.
"Currently right now, Huntsville is the first public use airport that's come forward and said, 'We're interested in having a space vehicle land here,'" said Christopher Allison, Systems Engineer for Sierra Nevada Corporation.
Dream Chaser is described as a multi-mission-capable space utility vehicle.  The vehicle is currently in competition for the contract to resupply the International Space Station, carrying astronauts and supplies.  Officials with Sierra Nevada Corporation say there are also plans to use the Dream Chaser on a variety of other missions to serve both U.S. and international customers.
"Alabama has been a leader in the space industry since the beginning and it is natural that Alabama would continue to play a vital role in the continuation of space exploration," Governor Robert Bentley said.
Artist rendering of Dream Chaser landing at Huntsville International Airport (Copyright 2015, Sierra Nevada Corporation)

Artist rendering showing Dream Chaser landing at Huntsville International Airport (Copyright 2015, Sierra Nevada Corporation)

Sierra Nevada Corporation's Dream Chaser on runway at NASA's Dryden Flight Research Center (Courtesy: NASA)
The Chamber already has a mock-up of what it would look like to have the Dream Chaser land at Huntsville International.  The spacecraft making landings here would propel a number of other industries, officials say.
"It opens up production industries in the aerospace area, where you can now bring in a satellite and repair it. You can do the repairs here," said Huntsville Mayor Tommy Battle.
Right now, they start in on a number of studies to determine if Huntsville can handle this.
"You can have different factors like sonic boom profiles," said Allison.
For what it's worth, we've got a little experience with sonic booms.  But there are also more technical aspects, for example, the Dream Chaser's front landing gear.  It's a skid, not a wheel.
"Here, we want to make sure that the type of asphalt that Huntsville has on their runway isn't impacted negatively by use of the skid," Allison said.
Other factors to be studied include airspace, traffic flow and potential impact on commercial air traffic.
Still, it's nothing that a few months worth of studies and FAA approval can't clear right up, putting Huntsville on track to have the only commercial airport that also works as a spaceport.
Aside from the several months worth of studies, we can't pin down exactly when Huntsville might see its first spacecraft landing, because the Dream Chaser isn't flying yet.  Its first mission is currently scheduled for 2018.
Teledyne Brown Engineering will perform the initial feasibility studies along with RS&H Aerospace and Morrell Engineering.  The Federal Aviation Administration would issue a re-entry license to allow the Dream Chaser to land in Huntsville should the initial assessments prove successful.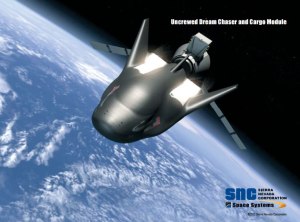 About Dream Chaser
Dream Chaser could carry a mix of a few astronauts and cargo.  There is also a cargo-specific unmanned version under development.
You may notice from the model, it looks a lot like a shuttle, though it's not as big.
"It's about one-fourth of the length," said Christopher Allison.
Dream Chaser doesn't quite carry the same heft as a shuttle either.
"The shuttle had the big cargo bay on the back of it to carry stuff up, kind of the workhorse of the space industry, to carry supplies and parts of the International Space Station up. What this vehicle does is more servicing. It brings up cargo, things that sustain folks up there and do science," said Allison.
As for whether the dream chaser could ever carry you to space, with a convenient return flight right here to Huntsville…
"Maybe not our target audience right now, but maybe something that could be considered," Allison said.
Follow WHNT News 19's David Kumbroch on Twitter @davidknews