This is an archived article and the information in the article may be outdated. Please look at the time stamp on the story to see when it was last updated.
HUNTSVILLE, Ala. (WHNT) – One of the biggest tasks for parents each year is a mound of paperwork required for student registration.  Huntsville City Schools has launched a new automated online registration system to solve that problem.
"Parents and administrators have wanted for a very long time to switch over to a paperless system," says Huntsville City Schools IT Manager Sandra Simmons. "So we listened to what the parents have said and have investigated different software packages."
The system, called "InfoSnap," allows parents or guardians to add, update or edit their child's information each year without having to complete entire paper registration forms.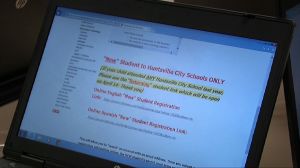 "You can come into the school at many schools and they are opening up labs throughout the city, or you can sit at home, use your student's computer and register your student from home," Simmons explains.
The new system will be used to verify student demographic, emergency and medical information, and is replacing all of the hard copy forms that a child brings home on the first day of school.  The system will also allow parents / guardians to electronically sign and submit the data to the district.
"Plus, it provides health information to the nurses that is not currently in our student information system," Simmons adds, "So that information will be at the fingertips of the nurses in the schools."
New student registration and returning student registration are now open.  Huntsville City Schools is asking everyone to complete the electronic registration by Friday, May 2, 2014, which will help the district in planning for the 2014- 2015 school year.
For more information and links to the registration page, visit the Huntsville City Schools website.  Parents who do not have internet access and need additional help may contact their child's school to find out about assistance.