This is an archived article and the information in the article may be outdated. Please look at the time stamp on the story to see when it was last updated.
HUNTSVILLE, Ala. – Here's a purr-fect way to make your family bigger this holiday weekend.
Huntsville Animal Services is overflowing with dogs, cats, puppies and kittens that all need loving homes, so the shelter announced it's waiving all adoption fees for just two days.
Nearly 120 of the 140 animals in the shelter adopted on Thursday, June 30th and Friday, July 1st won't have any of their typical fees.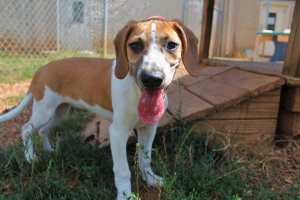 This 5-month-old female hound is just one of the animals at the shelter looking for a forever home. See more photos of the animals up for adoption on the Animal Services Facebook page. 
The waived fees include vaccinations, a microchip, City license and spay or neuter, according to the shelter. Some restrictions may apply to selected pets, the shelter said, noting that the waived fees are for qualified applicants. City licenses typically cost $35 alone on top of a $35-$50 fee for dogs and cats.
Visit the shelter from 9 a.m. to 5 p.m. on Thursday or Friday at 4950 Triana Blvd. in Huntsville.