This is an archived article and the information in the article may be outdated. Please look at the time stamp on the story to see when it was last updated.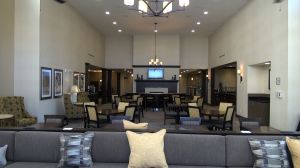 HUNTSVILLE, Ala. (WHNT) – Homewood suites, the first anchor establishment to open its door as part of downtown Huntsville's Twickenham Square development, has its first weekend in business out of the way.
The 101 suite hotel opened with just a few reservations Friday.
"But tonight we've got about 65 rooms and the rest of the week we're almost sold out, so we're really happy with that," says Homewood Suites General Manager Vickie Thrower.
The hotel seems to have sprung up at break neck speed. The extended stay hotel is expected to be a convenient option for people with family members staying at nearby Huntsville Hospital.
"We broke ground around this time last year and I came on board in October and time has flown since then," Thrower says.
The four-story hotel is the seventh Homewood Suites property in the state of Alabama and is the second in the city of Huntsville. Thrower says occupancy numbers are already filling up for the rest of the month an into April.
"The old Holiday Inn closing, of course, made a big difference because we did get several groups from there," Thrower says, "so we're just glad to be here to be a part of the community to help that situation out."
The Bristol Development Group has been coordinating the businesses that will fill the 23,000 square feet of retail space. Though, they are not yet ready to release the what shops may be filling the space.
Bristol is also building Twickenham Square's Artisan Apartments, which are also expected to be finished by next January or February.