This is an archived article and the information in the article may be outdated. Please look at the time stamp on the story to see when it was last updated.
HUNTSVILLE, Ala. (WHNT) - Saturday marks 25 years since a tornado struck Airport Road and left massive destruction in its path.  The storm's path stretched more than 18 miles, killed 21 people and injured more than 450 others.
Hundreds of homes were either destroyed or sustained severe damage.  For those of us in Huntsville that dark day, the memories are still fresh.
Holy Spirit School on Airport Road was among the structures destroyed.  The church was heavily damaged as well.
One staff member is talking with student to make the anniversary a learning opportunity.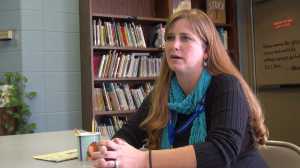 Carrie Turner is the librarian at Holy Spirit School and was a fifth grader there the day the tornado hit.
She uses archival footage and clippings to fascinate her students with a tale far more gripping than fiction.
Students often can't believe the pictures they see.  "Whoa!" is often their reaction, as it was Friday.
"With the older kids, I thought that they were ready to see some images. Everybody's in an image-driven world today. I wanted to find the pictures that would impress them and go 'wow' and they did, seeing our school and our church," Turner said.
Much has changed in a quarter century, but Turner says, to this day, she still feels lucky.
"You don't want to call it a blessing in disguise, but our school was able to rebuild safer and stronger to grow from this tragedy," Turner said.
In 1989, a section of pipe from the Holy Spirit church organ was reportedly found by a farmer in Kentucky.
No one from Holy Spirit was killed during the storm.