This is an archived article and the information in the article may be outdated. Please look at the time stamp on the story to see when it was last updated.
HUNTSVILLE, Ala.--  The new Grissom High School in south Huntsville is on a bit of an island, for now.
But soon, some major roadwork will create more access to the school and city leaders hope, spur more development nearby. "Because it was undeveloped for so many years," Huntsville city engineer Kathy Martin said.
The land west of Whitesburg Estates is mostly trees and swamp and has been untouched for years. "It's beautiful, it's green, it's nice, it's very peaceful," Zane Smith of Huntsville said.
"Mr. Hays was generous enough to donate some of this land to us," Martin said. And that means Smith's walking path is about to get about two miles longer.
"I have great expectations for when they do this," Smith said.
Right now, Haysland Road dead-ends just beyond Grissom High School. Martin says they're going to spend the next two years extending this road all the way to Bell Mountain Park. Martin says that's good news for runners or casual cyclists, commercial developers, and anyone who wants to avoid traffic congestion on the parkway.
"The Arsenal people, as they leave, should they take Haysland Road, they could skip four signals along Memorial Parkway and that seems pretty significant as well," Martin said.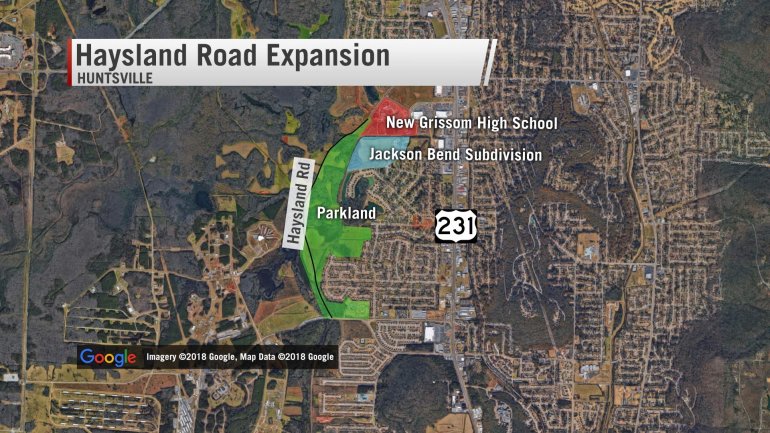 The project has significant funding. This week, Huntsville city leaders approved $7.5 million to build the two-mile stretch starting within the next few months.
The project includes three phases. Martin says phase one leading to Hobbs Road will be finished in two years. They eventually want the greenway trail to connect with Ditto Landing.