This is an archived article and the information in the article may be outdated. Please look at the time stamp on the story to see when it was last updated.
HUNTSVILLE, Ala. – Grissom High School has added extra security on campus today due to social media threats involving clowns.
These have impacted many schools recently, and police have arrested people in different cities for making terrorist threats.  In fact, a student was arrested at Boaz High School this week.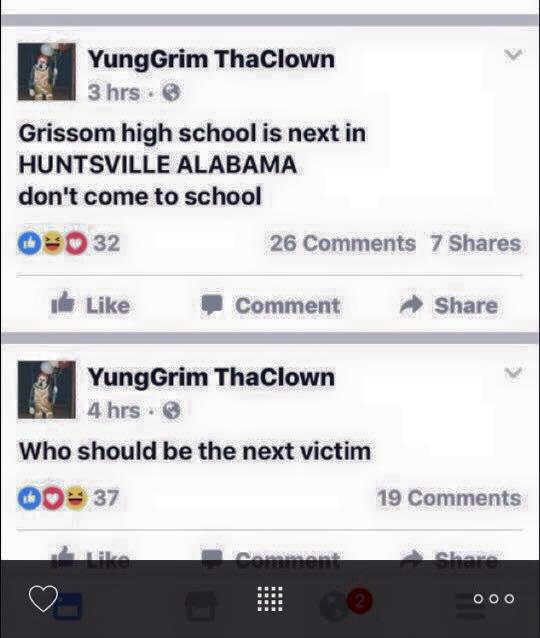 A post circulated on social media Wednesday evening showing a user with the name 'YungGrim Tha Clown' stated "Grissom high school is next in HUNTSVILLE ALABAMA don't come to school' and 'Who should be the next victim.'
Grissom High School Principal Becky Balentine sent this email to parents on Thursday morning:
Dear Parents and Guardians:
I am sending this email about a matter that was brought to our attention last night so that you would have accurate information, to discourage rumors, and to ask for your assistance. As you are aware, there have been several recent social media threats that involve a clown hoax at schools in Alabama, Tennessee, Georgia, and several other states. Over the past several days in Alabama, this type of hoax has been reported in Calhoun County, Elmore County, Escambia County, Geneva County, Lee County, Marshall County, and Morgan County. Investigations have resulted arrests and felony charges for several students.
Late last night, our Huntsville City Schools Security Department received information about a hoax on social media, similar to others from across the state, for Grissom High. I want to assure you that we always take any type of threat seriously, even those that are considered a hoax. We are working with law enforcement, our security department, along with district and school staff to investigate the issue, and to assure that our campus remains safe. Several enhanced security measures involving Huntsville Police and Huntsville City Schools Security were put in place last night and will remain in effect throughout the day.
We will not tolerate any type of incident or hoax that causes a disruption to the school day which results in countless hours of work for our staff and security department. I encourage you to talk with your children about the possible consequences of threats that are done as a hoax. Law enforcement agencies are taking these threats very seriously and are pursuing prosecution event when such incidents are intended as pranks.
We have an anonymous tips link, located on the left-hand column of our school website, to share information about this hoax, or any other issue that there is a concern about. 
The safety of everyone on our campus is our number one priority, and we will continue to be vigilant. I appreciate your continued support of a safe learning environment for our students.
Sincerely,
Becky Balentine
Principal
"They're taking these things seriously," said Huntsville City Schools spokesman Keith Ward. "There are charges that are at the federal level that we have heard about, and they're going to take it that seriously here".
According to Huntsville Police, depending on if the person is a child or adult the punishment varies, but under Alabama law any threat made against a school that causes disruption is considered a "Terrorist Threat".