This is an archived article and the information in the article may be outdated. Please look at the time stamp on the story to see when it was last updated.
HUNTSVILLE, Ala. - Once again, Grissom High School has earned a spot on Newsweek's list of America's Top High Schools.
Grissom landed at 390 on Newsweek's list of 500 top U.S. high schools.  The school boasts a 98 percent graduation rate and an average ACT score of nearly 25.
We spoke with longtime teacher Cary Hurt about the school's continued success and what Grissom is doing so right.
"For the most part it's business as usual for us," said Hurt. "That's what we're here for; we're supposed to be educating students and we have students who want to get an education."
Hurt has been on Grissom's faculty for 29 years.  He says when you have committed, talented teachers, a supportive administration and kids who care, it just happens.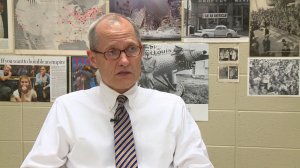 That's not to say producing Presidential Scholars, National Merit Finalists and acclaimed departments from fine arts to cyber security is an easy feat.  Hurt says it all boils down to an expectation for excellence in the capability of every student.
"It's not just a few great kids; and we have a few great kids who achieve. What we have is a really good middle core kids, but we also offer opportunities to every level of kid to reach their best, to excel," said Hurt.
Last year, Grissom High School earned the highest achievements on Common Core benchmarks and ACT scores in the Huntsville City School district.
[findthebest id="20Gr9BtTIOx" title="High School Graduation Rates Across the U.S: 2006-2013" width="650" height="560" url="//www.findthebest.com/w/20Gr9BtTIOx" link="http://public-schools.startclass.com" link_text="High School Graduation Rates Across the U.S: 2006-2013 | StartClass"]