This is an archived article and the information in the article may be outdated. Please look at the time stamp on the story to see when it was last updated.
HUNTSVILLE, Ala - Scammers are continuing to look for new ways to steal your money. Over the past few weeks officials from the Madison County Sheriff's Office have warned people about fraudsters posing as representatives from private companies like UPS and even government agencies. But now scammers are going a step further. Scammers are pretending to be the Sheriff in an attempt to reel in victims to their phishing scam.
You may have heard of scams like this before, where you receive an email from the sheriff's office saying you need to pay a fine. Lieutenant Donny Shaw says you still need to stay vigilant as one person has reported receiving two of these emails.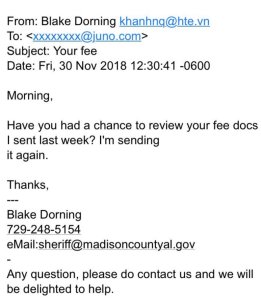 It's short. All it says is, "Morning, have you had a chance to review your fee docs I sent last week? I'm sending it again." It also says it's from the Sheriff and includes an attachment that Shaw believes is actually a link. And he is warning people against clicking it.
"In my best guess, I would say this is a phishing scam," Shaw said.
He says emails like this are going around.
"They're using a vast number of agencies and even private entities to try to scam people out of their information to victimize them," he added.
He says scammers might think people are more likely to fall for their game if the email looks like it is from someone official, but if people look closely, there are clues that show there is something fishy about this email.
"If you look at the sent domain, it was different than the email domain that was listed beside the Sheriff," he said.
The number listed below the Sheriff's name is also from out of state.
"Don't just respond to the email, or click on any of the unknown links, or respond, or call any of the phone numbers," he warned.
Shaw wants to remind people that the Madison County Sheriff's Office will never use email to collect a fee.
Shaw says if someone ever receives an email from a private company or government agency to look up their number and call them back.
Do not call the number listed in the email. That way you can verify that the email is actually legitimate.