This is an archived article and the information in the article may be outdated. Please look at the time stamp on the story to see when it was last updated.
HUNTSVILLE, Ala. (WHNT)  -  If you've driven down Drake Avenue in Huntsville recently, you may have notice the flags that lined the median are gone. American Legion Post 237 was in charge of them, and decided as a group to take all of them down.
In June, WHNT News 19 took action after a viewer realized the flags were worn and tattered. That's when we discovered America Legion Post 237 was responsible for their upkeep. We also learned 'Flag Row' was becoming an expense that the dwindling number of members found to be an unnecessary burden.
"The financial aspect of having to replace 50 flags, or 32, at $200 a piece come to about $15,000 or $20,000 a year," said Jerry Phelps, Post 237's Third Vice Commander.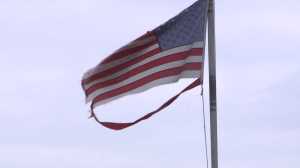 Back in June, Phelps told WHNT the original plan involved donating money to a local ROTC program, to use the helping hands. That plan fell through.
On Thurday, Phelps said his members voted back then to officially remove all the flags, and that is exactly what happened.
Phelps revealed his members are older, and the attendance roster is shorter. The members felt the flags' maintenance was too expensive.
We talked with a leader from the Columbia High School ROTC program. Eugene Thurman tells WHNT News 19 they simply lost contact with the American Legion member who was asking for their help with the upkeep. That's when the partnership fell through.