This is an archived article and the information in the article may be outdated. Please look at the time stamp on the story to see when it was last updated.
OWENS CROSS ROADS, Ala. -  Felines and Canine Rescue Center is getting ready to open the doors of its newest facility in Owens Cross Roads.
The Chicago-based animal shelter set its sights on north Alabama because of the surplus of homeless dogs and cats.
"We went from inception, identifying the need, realizing there was a surplus of animals here and a lack of adopters," said Development Director, Kelly Thompson. "We coordinated with several people locally throughout northern Alabama to really understand what the community's issues were and what we can do to assist with them."
Thompson says the south has a growing problem with homeless dogs and cats.
Renderings show what the rescue will soon look like and what will house some of the animals before being taken to loving homes up north.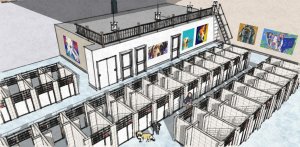 The rescue center is in its final stage before opening its doors to save lives, but there are still more donations to collect in the next five weeks.
"We're looking at $200,000 needed to become fully functional and be able to open the doors and start saving lives immediately," said Thompson.
At the end of the day, Thompson says they hope the facility can provide some relief to our local shelters.
If you are interested in donating to the rescue center, by visiting www.fcrescuecenter.org.