This is an archived article and the information in the article may be outdated. Please look at the time stamp on the story to see when it was last updated.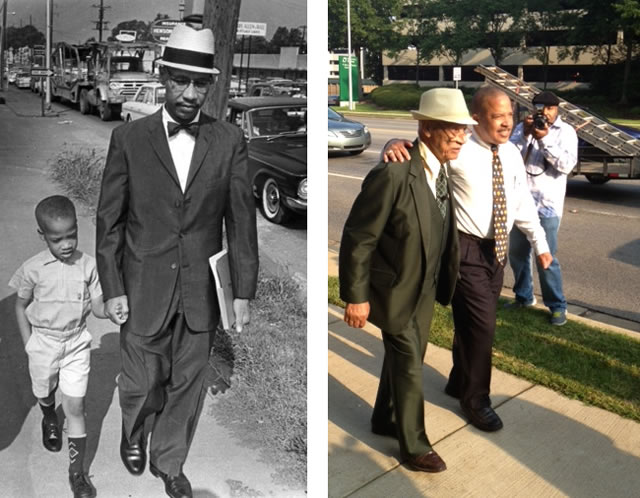 HUNTSVILLE, Ala. (WHNT) – This morning, a father and son reenacted an important event that happened in Huntsville 50 years ago.  It was the moment a father walked his son to school, marking the beginning of integration for Huntsville City Schools.
Those same two people, Dr. Sonnie Hereford III and Sonnie Hereford IV, marked the stroll again.
It was September 9, 1963 when the two walked to Fifth Avenue School. It was a pivotal event for civil rights.
A historic marker is all that remains of the school today. It was torn down in 2003 to make way for UAB's medical campus.
Sonnie Hereford IV is credited with being the first black student enrolled at a public school in Alabama. Three other black children were admitted to other Huntsville schools later that same morning.
The two strolled down the south side of Governors Drive at 8:30 a.m. to mark the anniversary.
At 2:00 p.m., the families of all four students were honored at the dedication to a new exhibit titled "On the Front Lines of History: Huntsville and the Civil Rights Movement."
The ceremony was held on the third floor of the library on Monroe Street. Mayor Tommy Battle, Superintendent Casey Wardynski and State School Board member Mary Scott Hunter and Commissioner Bob Harrison are among the special guests in attendance.
The exhibit traces how Huntsville became the first desegregated public school system in Alabama. It includes a memo from the White House from September 1963 that mentions the successful integration of Huntsville schools.
"Can you see this – if you can see a little red dot, that's Councill High School," explained Dr. Hereford as he took the podium holding up a hand-drawn diagram, pointing out his high school and the shaded area surrounding it on three sides like a horseshoe.
"If you can see the shaded part, that's the city dump…that's the city dump."
"No library," continued Hereford, "no cafeteria, no chemistry lab, no physics lab, no biology lab –  and I wanted to be a physician."
Despite being passed up by bus drivers on his 6 mile walk to a school situated among the city's waste, it's unwanted – a physician is exactly what Dr. Sonnie Hereford III became.
Long before he took those fateful steps toward Fifth Avenue School, his 6-year-old son fearlessly clutching his father's hand after they were turned away just days before; unwitting to the significance behind each tiny step. 50 years later the courage in times of challenge and controversy is undeniable.
Huntsville Superintendent Casey Wardynski said the occasion was not only one of celebration but of recommitment.
"This moment began with a young man trying to enter Huntsville City Schools," Wardynski began. "Today our board president and your superintendent are committed to the actions taken on that day which are to ensure every student gets an excellent education. That they do it together as a community just as we live as a community. And that we are going to have to continue to work, because our work is not done," finished the city's top educator.
The sentiment was echoed by Sonnie Hereford IV who said even though we as Americans have come a long way, complacency is the assassin of freedom and equality.
"There are some out there who would take us back. There are some out there who would take us in a backward direction and they don't all wear white robes – some of them wear black robes."
Last Thursday, the Huntsville School Board discussed a proposal to rename new University Place/Terry Heights Elementary building after Dr. Sonnie Hereford III.