This is an archived article and the information in the article may be outdated. Please look at the time stamp on the story to see when it was last updated.
MADISON COUNTY, Ala. -- This Labor Day weekend a lot of families will head to the beach or to the pool. But for one local family, it's a time that brings back their most terrible memory.
Two years ago the Despain family was visiting Austin, Texas.
"We were visiting my parents, we came down for Labor Day weekend," said Jamie Despain.
Jamie, his wife Erica and their children Hadley and Sadie were at his parent's pool.
"It makes your heart race a little bit. But at some point through our conversation, the adults were talking," Despain said. "Hadley slipped behind us."
Then two-and-a-half-year-old Hadley, went into the water without a sound, with her parents and grandparents just feet away.
" Literally four feet from the hot tub that runs into the pool," said Erica Despain. "She climbed up on that ledge and went into the water."
They estimate Hadley was under the water for around a minute and a half.
"I don't know what it was that made me look back, but we noticed her floating face down in the hot tub," said Jamie Despain.
They said when they pulled her out she was unconscious, her entire body was blue.
"I always say that this is my hero and my miracle," Erica Despain said. "My husband Jamie who I say is my hero, because he did CPR, and he had many doctors tell him, look him in the eye and say that 'you've saved your daughter's life.'"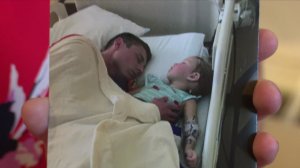 Hadley spent the next day and a half in the hospital. And nothing was the same they got back home.
"We have those images of seeing her face down in the pool and seemingly lifeless, are hard to move past," Erica Despain said.
The family turned to infant self-rescue classes. Lessons that teach kids as young as six months old how to survive if they were to ever fall into the water.
"Honestly I think the younger the better," said Kim Shaw, an Infant Swim Resource instructor. "Yes, they may cry the entire time, but I feel certain that if anything were to happen that this program works."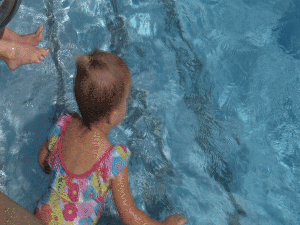 Students learn to swim, how to roll on their back and float, to get air, and to get rest.
"I've never had any kid that stuck with the program that hasn't been able to swim," said Shaw.
The classes are taught in ten-minute sessions Monday through Friday for four to six weeks.
"It never fails; every summer I look at a story on the news that doesn't end in a positive outcome with a pool, and it's sickening. So I know that this can be prevented," said Shaw.
Hadley and her little sister Sadie learned to swim through the program.
"We think back to that day, and if that would have happened with our now 2-year-old daughter, we know that she would have responded differently, after going through the program. She would have made noise, she would have known what to do. whereas she didn't know how to do any of that. We almost lost her because of it," said Erica Despain.
The family said it's their mission to spread awareness of water safety. They say floaties can give kids a false sense of security in the water, and that having more adults around can actually be a distraction, and that being CPR certified could save a life.
"Drowning is silent, that it's fast, and there is no substitute for knowing how to swim," said Erica Despain.