This is an archived article and the information in the article may be outdated. Please look at the time stamp on the story to see when it was last updated.
HUNTSVILLE, Ala. — Harmony Park Safari is back in the news.
Last week a customer's video showing an encounter with park personnel regarding damage to her car went viral. Now we've learned that a previous unfortunate encounter at the park – with a kangaroo — has led a Limestone County family to file a lawsuit.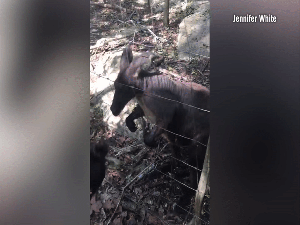 The video from the encounter is memorable and frightening. On May 6, a year ago, a nine-year-old girl visiting the park, was grabbed and bitten on the head by a kangaroo.
Federal officials later moved in and ordered a new barrier be constructed to create more distance between the animals and the public.
WHNT News 19 asked the U.S. Department of Agriculture for its records concerning any complaints, enforcement actions or inspection reports at the south Huntsville animal park.
But the USDA told us all the records fall under a privacy exemption and they withheld or redacted all 42 pages related to the park.
Now, the little girl's family has filed a lawsuit, nearly a year from the date of the attack.
Limestone County resident Jennifer White filed the lawsuit Friday, on behalf of her minor daughter, alleging negligence and wantonness. The lawsuit names the property's listed owners William Keith Allen and Shannon Allen.
The lawsuit alleges the park owners knew the wallabies and kangaroos, including 9-year-old Erwin, had shown aggressive and dangerous behavior toward patrons.
The lawsuit also claims the park had put up signs near the enclosure saying – 'I bite' and 'Don't.'
And it claims the park owners knew the 9-year-old kangaroo could easily reach its arms and head through the enclosure to make contact with the public.
The little girl suffered extensive physical and mental damages in the attack, the lawsuit says.
The lawsuit seeks unspecified damages for actual expenses and any punitive damages against the park and its owners.
The family's attorney declined to comment for this story. The park's owners didn't respond to a call seeking comment.
After we reported the kangaroo biting story last May, another family reached out to WHNT News 19 and provided medical records showing their 2-year-old was bitten by the same kangaroo.