This is an archived article and the information in the article may be outdated. Please look at the time stamp on the story to see when it was last updated.
(WHNT) – Alabamians with a less-than-perfect past are already lining up to get their record cleared.
Drug offenses, theft offenses, burglary charges, disorderly conduct, DUIs, you name it, attorney Mark McDaniel has seen it all. In the months since the law was first passed, McDaniel has already seen clients hopeful to wipe their record clean.
So, first things first, who qualifies? The law allows for expungement for:
non-violent felony charges
it can be granted in the event of a no-bill by a Grand Jury
dismissal of the charge with prejudice
a finding of Not Guilty
or one year after completion of a court mandated diversion program
You can also qualify five years after a charge was dismissed without prejudice, as long as the case has not been refiled, you have not been convicted of any other felony, misdemeanor, or traffic violation.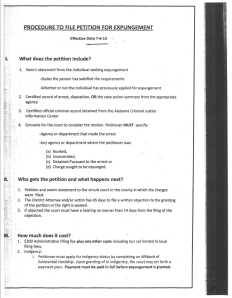 If a person meets the criteria, you first have to file a petition for expungement, including a sworn statement that the person has satisfied the requirements and whether or not they have previously applied for expungement.
The petition also includes a certified record of arrest, disposition, or the case action summary, a certified official criminal record obtained from the Alabama Criminal Justice Information Center, and ground for the court to consider the motion.
After the petition is filed, the district attorney's office or the victim then has 45 days to file a written objection to the petition for expungement.
The entire process is costly. Applicants have to pay a $300  administrative fee, on top of court costs – that are yet to be determined – and the cost of hiring a lawyer.
A point you'll hear come up time and time again with lawyers and lawmakers is how  expungement could help people get jobs.
"Even if it's on the record and found not guilty, it's there.  An employer can find it," said McDaniel. "And it can surely be a reason not to hire a person."
But because of the high cost of getting that record cleared, those in need of a job most likely can't afford it.
Fortunately, the law includes a provision that allows applicants to fill out an Affidavit of Substantial Hardship. If approved, the fees can be paid in installments. However, the record will not be cleared until all costs are paid in full.
Some lawyers will also consider representing clients for free, if there is financial need.