HUNTSVILLE, Ala. -  Officer Billy Clardy III's funeral will be on Tuesday, December 10 at Mayfair Church of Christ located at 1095 Carl T. Jones Drive. A public viewing will be held from 12 p.m. until 2 p.m. with the service to follow.
A processional to Clardy's gravesite at Maple Hill Cemetery will immediately follow the service. The procession route is as follows:
Exit Mayfair Church of Christ turning right onto Carl T. Jones.
West on Carl T. Jones to Whitesburg Dr.
Turning right (North) on Whitesburg continue to California.
Turn North on California to McClung.
Turn right (East) on McClung to the entrance to Maple Hill Cemetery.
Proceed to the gravesite.
There are several roads that will be closed during the procession. Here are the impacted intersections:
Carl T. Jones and Wainwright
Airport and Whitesburg
Whitesburg and Whitesport
Whitesburg and Teakwood
Whitesburg and Drake
Whitesburg and California
California and Bob Wallace
California and Longwood
California and Governors
California and Big Cove
California and Lowe
California and McClung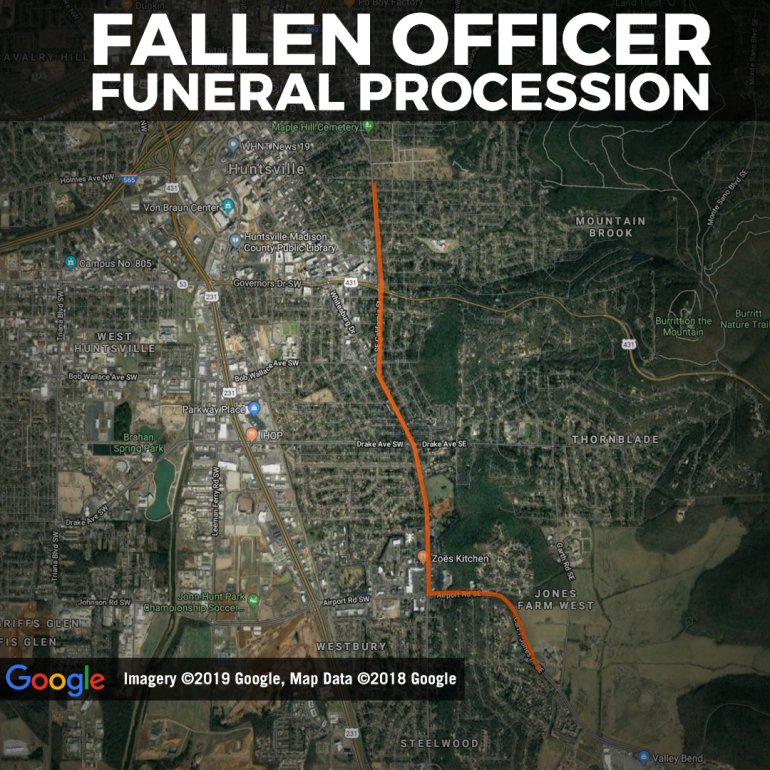 The Huntsville Police Department said the route is expected to impact traffic between 3:00 p.m. and 4:00 p.m.
HPD asks you to plan ahead, expect delays, and be prepared to see a lot of law enforcement vehicles from all across the state and some from out of state.
WHNT News 19 will stream Officer Clardy's funeral both on-air and online.