This is an archived article and the information in the article may be outdated. Please look at the time stamp on the story to see when it was last updated.
HUNTSVILLE, Ala. (WHNT) — A real life drama took place on the front lawn at the Huntsville Library after several people sprang into action to rescue nine ducklings stuck in a storm drain.
Monday afternoon, several people noticed a mother duck standing near a storm drain making lots of noise and they say she only had one duckling with her, something that stuck them as odd.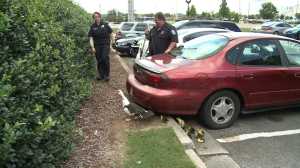 "I was eating lunch in my truck when I noticed the duck, but when I walked over and peeked into the drain I saw why that mom was so stressed out, her babies were trapped down there," says rescuer Arleca Woods.
Woods rallied a few other random strangers bonded together to attempt a rescue. Several men removed the metal drain cover and the group called animal services to the scene.
"We just could not bear to think of what would happen to those little guys if we didn't do something to get them outta there," fellow rescuer Wade Atkins told WHNT News 19.
Huntsville Animal Services crews used a large net and some bread to coax the ducklings close enough to the opening of the drain to scoop them up and bring them out of the hole.
They were able to reunite mother duck with her babies shortly after the rescue and, at last check, the family was en route back to Big Spring Park headed north. One of the ducklings was injured during the fall into the hole and animal services officers say they will keep the little guy for rehab and hopefully release it back into the park when the duckling is healed.
Officers tell us they typically respond to one or two of 'ducklings in distress calls' each year in Huntsville.