This is an archived article and the information in the article may be outdated. Please look at the time stamp on the story to see when it was last updated.
HUNTSVILLE, Ala. (WHNT) – The downtown Huntsville Tinsel Trail is a beautiful sight to behold. But for some families, the trees lining Big Spring Park mean much more than sparkly trimmings and good tidings.
"It's bittersweet that this year he has a memory tree at just 25 years old, but he would love it. He loved his team, he loved A&M, he loved his coaches, he loved downtown Huntsville."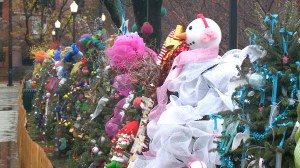 Some of the trees tell a somber story, like the Wilson family's. Cathy Wilson's favorite spruce is the one honoring her son, former star A&M kicker Chance Wilson.
"We're blessed that we could do this. I'm so glad Huntsville does something like this and we don't want him forgotten — we want to keep his memory alive," says Wilson.
It's an abrupt end to vibrant life the family will never forget. It's been just eight months since they said goodbye to Chance for the last time. They're now in the middle of what will without a doubt be one of their toughest seasons ever.
"They say the first holiday is always the hardest and so we're just really taking it just one day at a time. We miss him and he smiled, he loved everybody, he didn't meet a stranger and we have a big hole in our heart."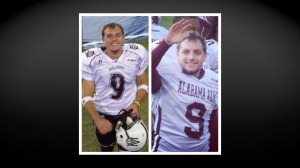 Every tree has a story. So when strangers pass the one adorned with Chance's image, mom wants them to know more than the story of number 9 and his longest punt in Bulldog football history. She wants them to know that smile, that embrace — that love.
"And I want them to know him," Wilson says. "I want them to remember him and  you know, say a prayer for us all. Every day."