This is an archived article and the information in the article may be outdated. Please look at the time stamp on the story to see when it was last updated.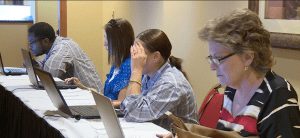 HUNTSVILLE, Ala. — If your interests involve hospitality, this job fair may be the one for you.
Embassy Suites held a job fair Thursday looking to fill 23 different positions, and the job fair will continue Friday from 10 a.m. to 6 p.m.
The hotel will be taking over food and beverage after Ruth's Chris closes this October.
Those interested in employment were able to complete applications, and some were even given on-the-spot interviews.
The general manager says this expansion will be good as Huntsville continues to revitalize the downtown area.