This is an archived article and the information in the article may be outdated. Please look at the time stamp on the story to see when it was last updated.
HUNTSVILLE, Ala. (WHNT) –  Huntsville divorce attorney Jonathan Lusk says even before the Ashley Madison scandal, one cause of divorce reigned above the rest: Adultery.
Already, Lusk's office has received a number of calls from people here in the Tennessee Valley whose names showed up on the Ashley Madison list.  Earlier this month, more than 30 million alleged cheaters were exposed to the public.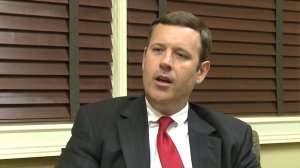 It may seem only logical that divorce attorneys will soon be flooded with cases.
"My brother-in-law already called and joked that he was going to buy stock in the company, assuming business would start booming," Lusk shared.
However, he says that's far from the reality.
"There's a misconception I think that as soon as someone finds out his or her spouse is having an affair, the person who is cheated on runs down to the divorce attorney," he explained.  "Most people who find their spouses have cheated are hurt, upset, but most of all think about the family, especially when there are children. So most of those people contrary to popular belief would want to save the marriage."
Lusk says it's usually the cheater that makes the call to the divorce attorney – and even then, that doesn't mean they'll go through with it.